Female Power Brokers Hail Changed Real Estate World
---
---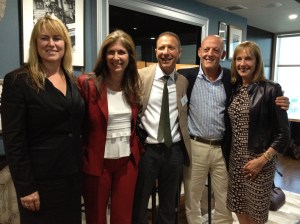 A trio of prominent female real estate professionals hailed changes in the real estate industry that have turned women power brokers into nothing out of the ordinary, something they said was not the case when they started in the business decades ago.
Sherri White of Vornado Realty Trust (VNO), Laurie Golub of HFZ Capital and Jane Gol of Continental Ventures Capital participated in a wide-ranging panel discussion last night at a benefit for the Friends of the Israeli Defense Forces on the top-floor terrace of the Olivia Building at 315 West 33rd Street, and, while they dished with moderator Peter Ripka of Ripco Real Estate on their thoughts about the city's eye-popping development, the state of its housing market and its dramatic turnaround from the recession, the three women made striking comments about the status of women in the industry.
"I work at a place that's great for women," said Ms. White of Vornado. "We have a lot of women and I sometimes ignore that I'm a woman. I don't see it as much as when I started. It's very different now."
Ms. White clued in the audience of fifty or so real estate insiders on the firm's big plans for its nine million square feet of space around the Penn Plaza neighborhood as well as its 300-foot Times Square billboard; Ms. Golub gave a behind-the-scenes account of Forest City Ratner's Atlantic Yards project and Africa Israel's turnaround of the Times Square Building from a couple of her previous gigs; and Ms. Gol reminisced about her time serving on the City Planning Commission under Mayor Michael Bloomberg.
"I think it's the first time for the FIDF to have a panel for just women," Ofer Yardeni, the nonprofit's New York real estate division chairman and the CEO of Stonehenge, told the audience. "I know how successful they are and how important they are in the real estate industry."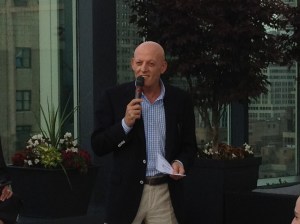 The panelists agreed that the former old-boys network that existed before is all but over, as Ms. Gol said she no longer worries that deals will be closed in the men's room.
"I think that's changing now that there's other women I can go to the ladies room with and finish the deal," said Ms. Gol.
Proceeds from the tickets to the event will go toward the nonprofit's ongoing campaign to help the Israeli military construct facilities in the country's Negev Desert, according to flyers distributed last night.