Smashburger Expands Franchise Agreements in Manhattan, Queens
---
---
Smashburger has expanded its agreements with franchisees in both Manhattan and Queens, the company announced yesterday. The agreements call for a total of 14 new restaurant locations in New York City.
The Denver-based fast-casual burger chain has expanded its agreement with Smash Partners to open 10 new restaurants in Manhattan. As reported by Commercial Observer, Smash Partners signed a 5,432-square-foot lease for the first Smashburger location in Manhattan earlier this year. The restaurant, which is located at 10 West 33rd Street, opened last month.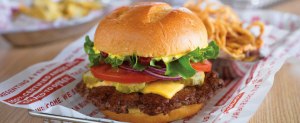 Concurrently, Smashburger announced an expanded agreement with ISK Systems to open four new locations in Queens.
"We are thrilled to expand our relationships with these veteran franchisees and welcome each of our new partners to the Smashburger family," said Scott Crane, the chief executive of Smashburger, in a prepared statement. "We look forward to working together to develop our leading fast casual brand in new and existing territories across the country."
Smashburger expects to grow its number of units by approximately 30 percent in 2014. The company also announced new franchise agreements in Upstate New York and Vermont, Mississippi, North Carolina, Maryland, and Pennsylvania, in addition to expanded agreements in California, Texas, Massachusetts and Pennsylvania and New York City.