Port Authority Newsstand Lease Renewal Approved with Wage Requirement [Updated]
---
---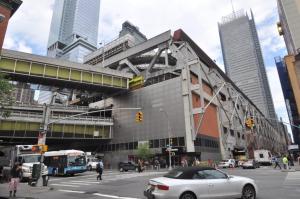 Port Authority of New York & New Jersey commissioners approved a $21.3 million lease renewal for Hudson Group Retail's 17 spaces on six floors of the Port Authority Bus Terminal after tacking on a living wage requirement Wednesday.
The newsstands, office and storage spaces for the New Jersey-based retailer add up to 14,065 square feet. The leases, which have been expired since 2005, would last up to 11.5 years, Michael Francois, the agency's chief of real estate and development, said during a presentation at the agency's offices at 225 Park Avenue South.
"Hudson News provides an essential service to the hundreds of thousands of commuters who use the terminal each day," Mr. Francois said. He added that Hudson agreed to $5.4 million in renovations to its retail spaces as well as the teeming station's Eighth Avenue entrance as part of the negotiation.
After the board's approval Wednesday, Hudson will pay a base rent of $1.3 million per year, or $149 per square foot, along with additional charges based on property taxes and revenues at the stands. Vornado Realty Trust (VNO) will receive a $338,000 commission for acting as consultant to the bargaining.
Under questioning from commissioners during his presentation, Mr. Francois said he didn't know whether the 40 employees who work for Hudson at the terminal are covered by a wage requirement for at least $10.10 per hour like employees at the Authority's airports. Vice Chairman Scott Rechler asked Mr. Francois to fold the pay standards into the proposal prior to the Board's vote later in the day.
"There are windows of opportunity like this and we should be taking advantage," said Mr. Rechler, the CEO and chairman of RXR Realty.
Representatives for Vornado and Hudson did not immediately respond to requests for comment.
Hudson, which has been a tenant at the terminal since 1991, runs 580 newsstands, bookstores and specialty shops in 70 transportation hubs in the U.S. and Canada, according to the company's website. Its Switzerland-based parent company, Dufry AG, operates more than 1,000 retail sites in 41 countries.
[This story has been edited to reflect the commissioner's approval during Wednesday's public session.]