Pace Dorm at 33 Beekman Reaches 65 Percent Built [Updated]
---
---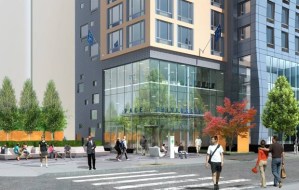 Construction of the 178,500-square-foot Pace University dormitory at 33 Beekman Street in the Financial District has reached 22 stories, leaving 12 more to go, Commercial Observer has learned.
The dorm, being developed between William and Nassau Streets by a joint venture of Naftali Group, SL Green (SLG) Realty and Harel Insurance and Finance, will have 378 housing rooms with 725 beds, said Miki Naftali, chairman and CEO of Naftali Group.
"There's a better way to hopefully create a nice and pleasant place for those students," Mr. Naftali said. "We designed what I believe is very nice student housing."
The design of the $130 million project, with interiors by Andres Escobar, was completed over a year ago. The project will be completed in the summer of 2015 with occupancy slated for that fall.
"They're actually going to have nice views," of the East River, Lower Manhattan and the new World Trade Center, Mr. Naftali said.
There will be 250 square feet of retail on the ground floor and a 3,000-square-foot public plaza which will be "an area for the students on a nice day to sit and chill and have their coffee," Mr. Naftali said. The dorm will also have a student lounge, laundry facility, gym, library, study rooms, game room, screening room, cafeteria and two recreational spaces.
"The common areas of this project were designed in a fun, contemporary industrial cool and colorful way in order to be representative of the young student clientele that occupies the building," Mr. Escobar said. "The students will benefit from a high-ceiling entrance and lounge area, with amusing lighting fixtures."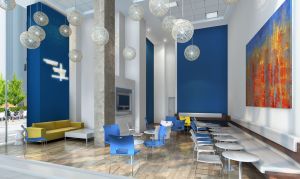 According to an SL Green news release from August 2012, the partnership acquired the fee interest in the planned development site, and upon completion, the partnership will convey a long-term ground lease condominium interest in the building to Pace. SL Green declined to comment.
The project marks Mr. Naftali's first foray into student housing, but he hopes to develop more in the future. SL Green, on the other hand, developed a dorm for Pace at 180 Broadway along with retail investor Jeff Sutton. Students moved in last Labor Day weekend and SL Green recently sold the building to Pace, as Commercial Observer previously reported.
Update: This story was edited to include comments from Andres Escobar.