Prudential and AXA Lend $300M on LIC's 4545 Center Boulevard
---
---
Developer TF Cornerstone closed a $300 million permanent loan from Prudential (PRU) Mortgage Capital Company and AXA Equitable Life Insurance Company for 4545 Center Boulevard, part of the developer's EastCoast residential complex in Long Island City. The loan is one of an increasing number of large deals from major lenders focused on the Queens neighborhood.
The Singer & Bassuk Organization brokered the 15-year, fixed-rate mortgage to refinance a $265 million construction loan on the 40-story rental tower, said Andrew Singer, chairman and chief executive officer of the New York-based brokerage firm. Prudential took $200 million, and AXA took $100 million, he said. The new loan closed on March 10.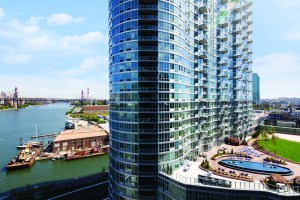 The borrower was originally seeking a $380 million loan to take advantage of low interest rates and lock in long-term, fixed-rate financing, since the property was completed earlier than anticipated, TF Cornerstone Senior Vice President Jeremy Shell told Mortgage Observer in September 2013.
However, "they decided to choose a more conservative amount, even though we had offers that were substantially larger," Mr. Singer said this week. "It was really about getting the best combination of proceeds and rate."
A consortium of five lenders, consisting of Wells Fargo, M&T Bank, Bank of America, Capital One and PNC Bank, provided the building's 42-month construction loan, which carried two one-year extensions and a floating interest rate, in November 2011.
Singer & Bassuk has arranged more than $1 billion in financing for TF Cornerstone's seven-tower complex in Long Island City, which contains six rental buildings and one condo building. The completed property at 4545 Center Boulevard contains a fitness center and 50,000 square feet of outdoor facilities, including a sand volleyball court, two tennis courts, a dog run and a reflecting pool. The 820-unit tower is fully leased as of January 2014.
"We're thrilled to have successfully closed this transaction with Prudential and AXA," Mr. Shell told Mortgage Observer about the refinancing. "We appreciate their commitment to our firm and to our long-term success at EastCoast."
TF Cornerstone paid $85 million for the 21- acre site in 2003. The New York-based developer is now finishing construction on 4610 Center Boulevard, the final tower in the EastCoast development, and will begin leasing the 565 units there this spring, Mr. Shell said.