Lawyer Claims One57 Fire Caused Back Injury, 'Respiratory Pain'
---
---
One57 was on fire over the weekend – literally. The fire reportedly started on a loading dock at the luxury residential tower on Saturday night and was brought under control around 10 p.m., but not before nearby resident and lawyer Michael Hurwitz prepared a lawsuit filed with the state Supreme Court against Extell Development.    
"The whole area was in a blazing fire," Mr. Hurwitz told Luxury Listings NYC. "It was a very close call … it was 100 percent unacceptable what was going on there."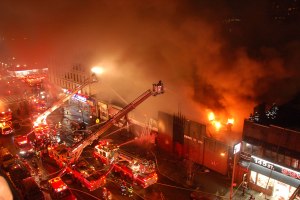 The managing member of the Hurwitz Law Firm claims the developers failed to secure the construction zone in accordance with state and city regulations. He also claims he suffered a back injury while rushing to evacuate, as well as "respiratory pain" from the smoke, according to the report. 
His request for a temporary restraining order barring developer Extell, construction company Lend Lease and a number of other firms was denied, but a court date is scheduled for April 2 for Extell and Lend Lease to answer additional claims against them.
Mr. Hurwitz, who lives in a sixth-floor unit at 150 West 58th Street, claims he was forced to evacuate his home after the fire "surrounded his apartment on the outside," which he said created "reasonable concern" of compromising structural integrity.
"While we would not normally comment on ongoing litigation, we want to state that these allegations … are entirely unfounded and without merit," an Extell spokesperson told Luxury Listings NYC in a written statement.
The fire started on a loading dock and according to some reports drew at least 75 firefighters to the scene.
The boom arm of a crane above the property now infamously snapped back on October 29, 2012 during Hurricane Sandy due to 100-mile-per-hour winds, evacuating hundreds of residents, businesses and hotels for more than a week. Six months later construction workers replaced the crane, evacuating neighboring residents once again.