First Look Media Negotiating Space at L&L's 114 Fifth Avenue
---
---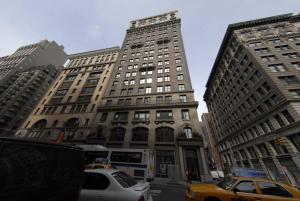 New online news venture First Look Media is negotiating a full-floor lease at L&L Holding Company's redeveloped office tower 114 Fifth Avenue, Commercial Observer has learned from someone with knowledge of the deal. The floors are just shy of 20,000 square feet.
In the interim, the news start-up, which was financed with $50 million by the eBay founder and billionaire Pierre Omidyar, will be subletting a floor (which are about 11,000 square feet each) at 162 Fifth Avenue between 18th and 19th Streets that was leased by major Hollywood talent agency, CAA. CAA has relocated to the Chrysler Building, as Commercial Observer previously reported.
First Look Media has a Manhattan address of 603 Greenwich Street. According to a December 2013 Inc. article, the organization was slated to set up offices in New York City, San Francisco and Washington, D.C.
First Look Media, which launched its first publication The Intercept, a national security site, on February 10, didn't respond to requests for comment. The 501c3 nonprofit made news this month with the announcement of the addition of Gawker editor John Cook as editor in chief of The Intercept. The organization will also have a financial and corruption publication headed up by Rolling Stone magazine contributing editor Matt Taibbi.
As Commercial Observer previously reported, L&L purchased the 330,000-square-foot, 20-story 114 Fifth Avenue at the southwest corner of 17th Street in a joint venture with private equity firm Lubert-Adler for $165 million in early 2013. The company did a building-wide redevelopment including new infrastructure, lobby, elevators and landscaped roof. In January, nearly 240,000 square feet was still available for lease on the second through ninth floors at 114 Fifth Avenue, as well as the entire 16th through 19th floors, with asking rents in the mid-$70s per square foot at the base to the mid-$80s on higher floors.
L&L declined to comment. An affiliate of ABS Partners owns 162 Fifth Avenue and ABS declined to comment.
114 Fifth Avenue
,
162 Fifth Avenue
,
603 Greenwich Street
,
CAA
,
Chrysler Building
,
ebay
,
First Look Media
,
John Cook
,
Lubert-Adler
,
Matt Taibbi
,
Pierre Omidyar
,
L&L Holding Company