Ad Firm Sizmek Joins Tech Roster at 401 Park Avenue South
---
---
Newly-formed digital advertising company Sizmek (NASDAQ: SZMK) has signed a 21,100-square-foot lease for the entire fifth floor at Meringoff Properties' 401 Park Avenue South, Commercial Observer has learned.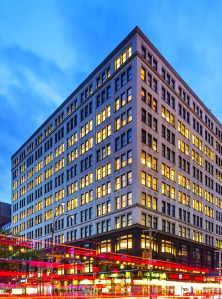 The space will accommodate the firm's growing demands after coming to fruition as a spinoff of ad firm Digital Generation, purchased last month by video ad company Extreme Reach.The deal also completes ownership's comprehensive leasing program at the property, during which 150,000 square feet of leasing was completed after an extensive renovation.
"The response to our aggressive leasing efforts was extraordinary," said Stephen Meringoff, principal of the firm. "In less than a year, we entered into leases with a remarkable group of companies."
The property features two recently renovated lobbies and new building systems that have attracted attracted burgeoning media, high-tech and digital enterprises. The new-and-improved roster at the building, in addition to Sizmek, includes WeWork and xAd, joining existing tenants Time Warner Cable, the New York School of Interior Design and Vitech Systems Group.
Justin Royce of Cushman & Wakefield represented Sizmek in the transaction, while Mark Stein and Jason Vacker of Meringoff Properties acted in-house on behalf of ownership.
Extreme Reach paid $485 million (plus cash and working capital) for now-defunct Digital Generation's TV distribution assets. Following the transaction, Sizmek reported that it expected total cash of approximately $60 million and total working capital of approximately $60 million on hand.
"Sizmek is entering an exciting chapter in its evolution," said Neil Nguyen, CEO and president of Sizmek, in a statement issued at the time. "With a solid balance sheet, thousands of customers, and a cutting-edge open technology platform that delivers global scale for our customers, we are hard at work in realizing our vision for substantial growth."
Meringoff Properties did not disclose asking rents on the space in time for publication.
401 Park Avenue South
,
Digital Generation
,
Extreme Reach
,
Meringoff Properties
,
New York School of Interior Design
,
Sizmek
,
Stephen Meringoff
,
Time Warner Cable
,
Vitech Systems Group
,
WeWork
,
xAd