Sony Makes 11 Madison Avenue Deal Official
---
---
Sony Corporation of America has signed a 15-year, 525,000-square-foot lease at 11 Madison Avenue, the company confirmed today.
The U.S. branch of the Japanese conglomerate will occupy the top 10 floors of the building, as well as the rooftop overlooking Madison Square Park. Additionally, Sony will have a dedicated entrance to the building with the address 25 Madison Avenue.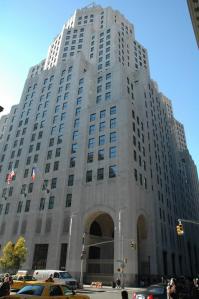 "We're excited to be moving to this magnificent building in one of New York City's most dynamic and desirable neighborhoods," said Nicole Seligman, president of Sony Corporation of America, in a statement.  "Our new home will put us right where we belong: among the city's leading cutting-edge technology and entertainment companies."
Sony will relocate from its U.S. headquarters space at 550 Madison Avenue in early 2016. The company sold the Midtown property to a Chetrit Group-led partnership last year for $1.1 billion.
The company's move to Sapir Organization and CIM Group-owned 11 Madison Avenue had been rumored for some time. The New York Post first reported that Sony had a term sheet for the space in September of last year, though the company denied the deal was done in an email to employees. The move was ultimately facilitated when Credit Suisse, the building's anchor tenant, agreed to consolidate into 1.5 million square feet at the base of the building.
"We are pleased to have Sony join our other long-standing anchor tenant, Credit Suisse, and to have two world-class corporations that have made long-term commitments to the building," added Alex Sapir, president of Sapir, in the statement.
Howard Fiddle, Brad Gerla, Zachary Freeman and Zakery Snider of CBRE represented the landlord in the transaction. Greg Tosko, Lauren Crowley Corrinet, Brendan Herlihy and Mary Ann Tighe, also of CBRE, represented the tenant. The brokers were not immediately available for comment.