Global Chinese Jeweler Sets Record at 585 Fifth Avenue
---
---
Global Chinese jewelry company Lao Feng Xiang Jewelry has signed a long-term lease for its first North American retail store and showroom at 585 Fifth Avenue.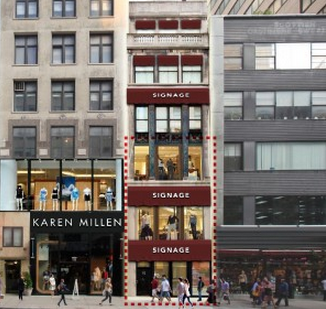 The store, set to open this fall, will span 6,100 square feet across three floors and a basement space, and the company plans to brand the entire six-story building in celebration of establishing a United States presence in New York City.
"Fifth Avenue is the most dynamic retail stretch in the world and only the cream of the crop populates this retail strip," said Winick Realty Group's Joseph Isa, who represented owner TSW 33 Realty Corp. in the transaction, in a statement announcing the deal. "Lao Feng Xiang Jewelry knew the value of having a Fifth Avenue presence, not to mention one in such close proximity to the Diamond District. This lease catapults them to immediate brand awareness."
The vacancy marked the first time the retail at 585 Fifth Avenue had been available in more than four decades, with Lao Feng Xiang Jewelry coming in at what Winick called record rents that edged close to the asking price of $2.25 million per year.
"Ownership was also happy to have Lao Feng Xiang Jewelry as a tenant… because of their incredible history, dating back to 1848," Mr. Isa said. 
Stephen Sjurset, Cassie Durand and David LaPierre of CBRE represented Lao Feng Xiang Jewelry, which has more than 2,300 sales outlets across the globe.