Thomas L. Hill: George M. Brooker Management Executive of the Year
---
---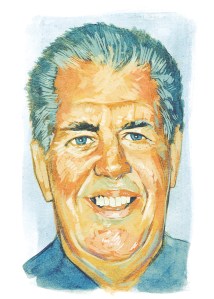 Thomas Hill, a native New Yorker, started off in the real estate industry when he was a child shadowing his father, who worked for a large real estate developer. He would spend his holidays and summers working as an engineer's helper, eventually completing trade school, climbing the ranks and switching to the managerial side. His career and narrative is a true American success story. 
"I have a vivid recollection of taking the L train from Canarsie as a young boy," said Mr. Hill, who is currently the senior vice president of Boston Property's New York Property Management Department. "I used to go to work with my dad on holiday breaks. He worked at a big real estate company, and I seized every opportunity."
"I remember all of it," he continued. "I remember walking through the Chrysler Building. I remember all of the things that went on—the loading docks, the deliveries. When my dad was ready to go home and the cleaning ladies were there, they'd try to teach me how to say "hello" in Russian. When I was older, I worked a few summers as an engineer's helper, and by then we had moved to Long Island, so I'd take the train. It was just so busy and exciting."
Mr. Hill finished high school and went on to the State University of New York at Farmingdale before returning to Manhattan as a cleaner. He would mop and vacuum houses on Fifth Avenue until a spot became available in the Operations Union. He joined, and his first full-time position was opening 1633 Broadway in 1971. He attended technical and trade school in his spare time and eventually became a chief engineer of a 2.5-million-square-foot building when he was 27 years old. "The more I did and the more I progressed, the more I wanted to do," said Mr. Hill. 
"I remember what my dad told me when I was younger: 'If you are going to have a career in the industry, try to work for a develop. It's a little more exciting; you'll be building buildings and opening them,'" said Mr. Hill. That opportunity would come when he started the next decade of his life. 
"When I was in my early 30s, the challenges dried up for me, and I had the opportunity to move into management," said Mr. Hill. He then interviewed with the head of operations for Boston Properties when it was just starting to move into the New York market. He walked out of the interview telling himself: "I have to work for this man. I have to work for this man!" Sure enough, a job offer came shortly after the interview, and Mr. Hill came on board the managerial side in 1985.  
Mr. Hill climbed the ranks. Now, the portfolio he manages spans 10 properties for which he is responsible for the coordination, delivery and quality assurance of all services and manages about 180 combined building managers, service contractors and engineers. 
Boston Properties has become one of the leading developers in the city. Its first high-rise was the 50-story, 1-million-square-foot 599 Lexington Avenue. "The building had tremendous implications, and it really put us on the map as a high-rise developer. It's very dear to my heart," said Mr. Hill, who would then continue with Boston Properties on the construction and opening of its Times Square properties. The company would eventually sell its stakes in the buildings, but their construction changed the face of Times Square with the 37-story, 1.1-million-square-foot 5 Times Square and the 47-story, 1.25-million-square-foot Times Square Tower at 7 Times Square. 
The Real Estate Board of New York is honoring Mr. Hill's commitment to property management in awarding him the George M. Brooker Management Executive of the Year Award on Thursday night at its annual banquet. The award recognizes individuals of superior accomplishment in the commercial management industry based on outstanding professionalism, civic achievement and contributions to the real estate industry. 
"This award to me …," started Mr. Hill, before stopping for a moment to gather his thoughts. "As a very young body, the thing that always impressed me about the real estate industry is its greatness and the greatness of the people and, I think, of the people that I've worked for, and they were these great companies with great contributions to the city." 
"When I really reflect on REBNY," he said. "I think of how vital it is to the industry, and I think of this award as saying, 'Yes, I've worked very hard and tried to advance the industry. I'm grateful for the award but much more grateful for having had the opportunity to participate in all this greatness.'"
"I get up every day—I'm turning 63 in May—and I feel like a kid going to a championship baseball game," he said. "It's never the same every day. You get a tremendous sense of accomplishment. You are servicing people. You are running buildings.