REBNY Banquet: The Rules of the Pregame
---
---
The formal dinner held in the Hilton's cavernous Grand Ballroom is the centerpiece of the REBNY banquet celebration. But the preceding cocktail party in the Mercury Ballroom is just as lively despite its more intimate size—450 this year, compared to the banquet's roughly 2,200. Indeed, invites to the cocktail hour are especially coveted by the wheelers and dealers in an industry that's famously fond of status symbols.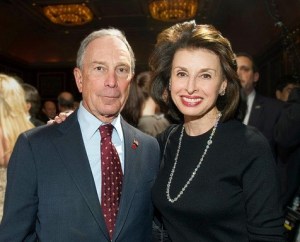 And unlike the cacophonous main event, the party, which is hosted by the REBNY Board of Governors and benefits the REBNY Foundation, offers a chance for (relatively) personal conversation, perhaps with the notable city politicians who are practically required to make a cameo appearance.
"When they started doing the foundation party, it was a very small group of people," said Jimmy Kuhn, the president of Newmark Grubb Knight Frank. "It was good, because you could actually talk to someone for more than 30 seconds. Now, it's gotten very large, and it's sort of become an extension of the regular dinner. I'm not sure there's much of a difference at this point."
Leslie Wohlman Himmel, a co-managing partner of Himmel + Meringoff Properties, agrees. "It used to be a much smaller party than it is today," she said. "The tickets were extremely coveted. But it's still the one to go to in terms of pre-parties. And in just two rooms, you can see a lot of people. But it feels to me that the numbers have gotten larger and larger."
Those numbers include many of New York's leading politicians. Last year, the entrance of City Council Speaker Christine Quinn—then the leading candidate to replace Mayor Michael Bloomberg, also in attendance—caused a particularly big stir. Shortly after the banquet, New York magazine would run its notorious cover of Ms. Quinn looking, in the New York Post's words, "like a cape-wearing vampire."
Some industry stars claim to be unfazed by the presence of City Hall bigwigs. "If they're there, you can't see them," Mr. Kuhn said. "It almost doesn't matter. But look, everybody who's important is there. And to tell you the truth, if I weren't there, everyone would think I was dead." On the other hand, Ms. Himmel recalls a photo-op with former Mayor Bloomberg as her most memorable foundation party moment.
Cocktail party conversation, meanwhile, is less of a highlight. Ms. Himmel agreed that conversations may last a bit longer in the Mercury Ballroom than next door at the banquet, but not by much. "Maybe more like 90 seconds instead of 30 seconds," she said. "You've got to remember: The banquet is a night where you're meeting and greeting, not negotiation a whole deal. It's really a chance to say 'hello' to a few thousand friends."