Financial Firms Ink Full-Floor Deals at 1140 Avenue of the Americas
---
---
Two financial services firms have signed 12,750-square-foot full-floor deals at 1140 Avenue of the Americas, The Commercial Observer has learned.
Trilogy Global Advisors will relocate from the Grace Building to the 18th floor of the Equity Office property. The tenant will pay rent starting at approximately $80 per square foot in a 10-year deal, according to data from CompStak.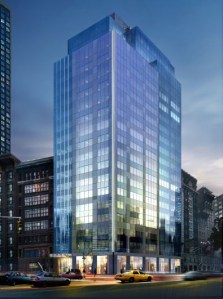 "The landlord offered a high-end build out," said Kirill Azovtsev of Jones Lang LaSalle, who represented Trilogy. "The landlord was very receptive to what we asked for."
Trilogy expects to move in to the new space within the next 12 months. The firm concentrated its search along the Avenue of the Americas corridor, wishing to remain central to both Grand Central Terminal and Penn Station.
Elsewhere, on the sixth floor of the building, Field Street Capital signed a five-year lease and will pay similar rents, according to CompStak data. The asset management firm will relocate from 444 Madison Avenue.
John Isaacs of CBRE represented Field Street Capital but did not immediately return requests seeking comment.
Starwood (STWD) Property Trust, CityMD and Dabroes Management all signed deals at 1140 Avenue of the Americas last year. Starwood, a commercial mortgage real estate investment trust, committed to take the entire fifth floor of the building.
Douglas Neye and David Wassel of Jones Lang LaSalle and in-house broker Jessica Kanfer represent Blackstone (BX) Group-owned Equity Office at 1140 Avenue of the Americas. Mr. Neye did not return requests seeking comment.
1140 Avenue of the Americas
,
David Wassel
,
Douglas Neye
,
Field Street Capital
,
Jessica Kanfer
,
John Isaacs
,
Kirill Azovtsev
,
Trilogy Global Advisors
,
Blackstone
,
Equity Residential
,
Starwood