Avison Young Named Exclusive Office Leasing Agent of Strand Building
---
---
Avison Young has been named the exclusive office leasing agent of The Strand Building at 826 Broadway,The Commercial Observer has learned.
Michael Leff, Anthony LoPresti and Stephen DeFlorio of the fast-growing commercial real estate services firm will manage leasing on behalf of the building's landlord, Bass Real Estate. The Union Square-area property is home to the legendary Strand Book Store and its 18 miles of books.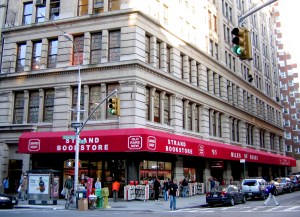 "This building has an incredible history, with Strand – an 87-year-old institution and one of New York City's cultural treasures – as the last remaining bookstore from the days of Manhattan's famed 'Book Row'," said Nancy Bass, of Bass Real Estate, in a prepared statement. "Today, there is a resurgence of creative tenants migrating to this neighborhood and we are confident that the Avison Young team will be able to effectively capitalize on this continuing trend."
Avison Young is currently marketing two 12,700-square-foot floors in the 11-story, 152,000-square-foot building just two blocks south of Union Square. The Robin Hood Foundation, a well-known charitable group, is the property's largest office tenant.
Mr. Leff said in a phone interview that the sort of creative tenants that have been flocking to Midtown South would be drawn to this "cool, hip" neighborhood which, in his and other real estate professionals' opinions, shows no sign of cooling off soon.
The bookstore takes up two floors in the building. Mr. Leff said Avison Young was currently focusing on the two available floors, although other may soon become available. He declined to comment specifically on rents, but said they were in line with the surround neighborhood.