SL Green Continues Green Streak with LED Lighting Order
---
---
SL Green Realty Corp. has selected Revolution Lighting Technologies, Inc. and its Seesmart brand LED tube lamps for a second phase retrofit at 10 of its commercial properties, which could ultimately save $300,000 annually. 
The 8,000 lamps will be used across 485 Lexington Avenue, 600 Lexington Avenue, 750 3rd Avenue, 625 Madison Avenue, and 1185 Avenue of the Americas, among other properties.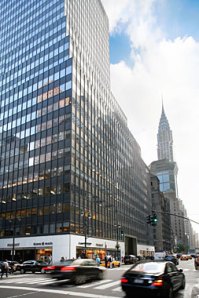 "LED equipment impacts 90 percent of lighting lifecycle costs through energy use and lamp life, providing $7.4M in total lifecycle savings for SL Green," said Jay Black, SL Green's director of sustainability, in a statement. "LED lighting will continue to play a key role within SL Green's energy efficiency program."
In 2012, SL Green worked with TriState LED, Revolution Lighting's leading distributor of Seesmart LED products to install 16,000 lamps at twenty-two properties, with that round saving $625,000 annually, according to Revolution Lighting, while the latest round would save an additional $300,000.  
In the first phase, which addressed lighting throughout lobbies, garages, stairs, and mechanical areas, SL Green achieved a project payback of less than three years, reducing lighting energy use by more than 55 percent, while improving lamp life to three to four times other lighting technologies, the company said.
"Revolution Lighting is excited to continue its relationship with SL Green, delivering significant cost savings through advanced LED lighting solutions," said Charles Schafer, Revolution Lighting president and CFO, in a statement. "SL Green's continued use of our Seesmart brand LED products reflects the growing market confidence in the LED industry, and Revolution Lighting's capability to deliver leading LED solutions for our customers." 
Last month SL Green Realty Corp. announced it had recycled another 164,000 square feet of carpet as part of recent tenant office construction at 100 Church Street, making the product available for second generation products.
Mr. Black at the time told The Commercial Observer that the initiative, started in 2007, was a "strong push in our sustainability program," with the firm's ongoing commitment culminating in 3.2 million square feet of carpet and ceiling tile being recycled – instead of creating 1,086 tons of waste.
Among other sustainability initiatives at the firm, recycling, water savings and other efficiency measures are monitored through a real-time energy management system that allows management to optimize performance.
1185 Avenue of the Americas
,
485 Lexington Avenue
,
600 Lexington Avenue
,
625 Madison Avenue
,
750 3rd Avenue
,
Charles Schafer
,
Jay Black
,
Revolution Lighting Technologies
,
Seesmart
,
SL Green Realty Corp.
,
Tristate LED