Infor Doubles Space at 635-641 Avenue of the Americas
---
---
Business application software company Infor has signed a long-term expansion at 635-641 Avenue of the Americas, more than doubling its size to 92,246 square feet after its move to the building just one year ago.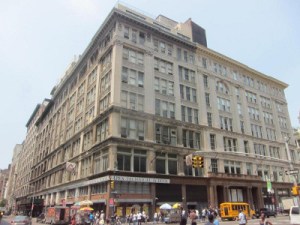 "They need the intellectual capital of New York and that is why they elected to take more space and grow," said Bruce Mosler, who led the Cushman & Wakefield team that represented the tenant. "This speaks volumes about the growth of the tech sector in New York."
SL Green is performing a redevelopment to re-combine the two buildings into one, and its completion in the early part of next year will coincide with the commencement of Infor's build out of the new space.
"We really love the asset and have confidence in the ownership. They're really building it into a first class building," Mr. Mosler said.
The buildings were originally constructed in 1902 as one of the great department stores along the historic "Ladies Mile" and subsequently divided and operated as two separate buildings.
The renovation will include a new and expanded lobby, relocation of elevator shafts, new windows, façade and storefront restoration, and at 635 a new 10,000 square foot glass penthouse and terrace with a new rooftop deck complete with bocce court.
Infor CEO Charles Phillips, in a statement announcing the deal, credited its internal creative agency, Hook & Loop, with fueling the company's growth, noting that by the number of customer visits to the firm's New York headquarters is 20 times greater than at its previous location in Alpharetta, Georgia.
The C&W team representing Infor also included Mark Mandell, Doron Etzioni and Ethan Silverstein.
Jones Lang LaSalle's Paul Glickman, Diana Biasotti, Benjamin Bass and Jonathan Fanuzzi represented SL Green.
Penthouses on floors seven and eight, which combine for roughly 22,000 square feet, as well as the second floor, are the only remaining floors in the building, Mr. Glickman said.
"Pre-leasing 50,000 square feet prior to the completion of the capital renovation — in one of the tightest submarkets in the country — optimally positions the remaining penthouse duplex and second floor space to be highly-coveted in the marketplace," he said.
Rents in the building range in the high-$70s to high-$90s per square foot, sources said.
635-641 Avenue of the Americas
,
Benjamin Bass
,
Bruce Mosler
,
Charles Phillips
,
Diana Biasotti
,
Doron Etzioni
,
Ethan Silverstein
,
Infor
,
Jonathan Fanuzzi
,
Jones Lang LaSalle
,
Mark Mandell
,
Paul Glickman
,
SL Green Realty Corp.