Finalists Named for Battery Park Chair Design
---
---
Say goodbye to traditional benches in Battery Park.
The Battery Conservancy and NYC Parks today revealed the finalists in a design competition aimed at selecting a new chair for the park in Lower Manhattan.
Draw Up a Chair, as the competition is named, received 679 submissions from 15 countries across the Americas. After first narrowing the field down to 50, the contest's organizers on Monday announced the final five contestants.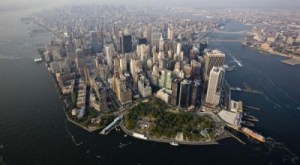 The winning design is scheduled to be named next May. The selected designer will be awarded $10,000 cash and will have their design replicated for use on Battery Green, a public green space under construction near Battery Place.
"Movable chairs give people the ability to decide how they want to sit," Warrie Price, president of the Battery Conservancy, told The New York Times. "The public is demanding more from their urban environments, from great parks to great design."
Two of the chairs—one from the United States, the other from Brazil—will be reversible.
The Pivot Chair, the U.S. submission, "is a study in dualities, ripe with qualities that encourage and accommodate different programs one finds at Battery Park," according to its online description. The chair features both upright and reclined physical phases.
The Brazilian U Rock submission "gives you the choice of sitting straight in a comfortable and beautiful chair or to rock it out in a fun, cool new take on the classic rocking chair."
The remaining finalists come from the U.S., Mexico and Canada. The Mexican submission, Maple Chair, is constructed of a single piece of aluminum. The genesis for Fluert, the Canadian design, "came from imagining how a field of chairs could poetically respond to the lawn of Battery Park." The South Chair, the second U.S. finalist, is comprised of an "infinite tube loop," constructed in two sections and welded together.