CBRE Research Finds Strong Link Between Rents, Subway Station Proximity
---
---
A new CBRE research report has found that, on average, Manhattan office buildings adjacent to major subway stations fetch asking rents 19 percent higher than properties within two blocks of those busy train platforms.
The firm looked at the 10 busiest stations below 60th Street for this report. The 59th Street-Columbus Circle station had the widest gap–58%–in asking rents between adjacent ($77.38 per square foot) and merely nearby ($48.83) office properties. The Times Square-42nd Street hub followed, with adjacent office properties asking $92.30 a foot, 48% more than buildings within a two-block radius.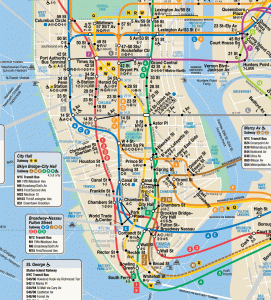 While convenience has always been a fundamental selling point in commercial and residential real estate, CBRE is releasing these findings at a time when major transportation projects stand to reshape vast swaths of the city. The 7 line is being extended beyond Times Square to 11th Avenue and 34th Street. The $8 billion East Side Access project will spare lucky Long Island Railroad riders a Penn Station terminus with a stop at Grand Central Terminal. And the perpetually delayed Second Avenue Subway will ease straphanger congestion on the East Side.
Meanwhile, the World Trade Center and Fulton Center transit hubs should improve commutes for Financial District workers, potentially making the neighborhood more appealing to youthful Brooklyn residents. Speaking of Fulton Center, it was the only station around which adjacent properties actually achieved smaller asking rents than buildings nearby. CBRE attributed that 8 percent differential primarily to ongoing construction at the site, the sort of which could eventually change the balance in asking rents around projects less further along in their noisy development.
But in a video accompanying the report, David Florio, the senior managing director of brokerage services at CBRE, was optimistic, particularly about west Midtown. "At the end of the day," he said, "when all of these projects are completed, you'll have a situation where Penn Station has service from the Eighth, Seventh, Sixth and Second Avenue lines in addition to the Broadway line, PATH, Amtrak, New Jersey Transit, the LIRR and Metro North. When that occurs, no other submarket in Manhattan will have that kind of transit access."