Third Quarter Optimism Signals Strong Fourth Quarter Push
---
---
An improving economy, strong employment growth and positive third quarter data are signaling more growth to come across the city's commercial real estate market.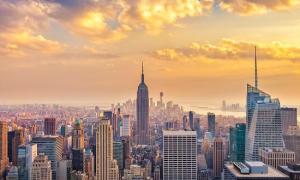 While the financial sector still lags and the third quarter may not have rivaled the second, a review of third quarter data by The Commercial Observer shows more than a few data points — and a few recent records — to be optimistic about.
The third quarter logged positive absorption, and average rents increased for the first time in months. The high end of the market is thriving, with 48 triple-digit leases recorded so far this year, according to data from Cushman & Wakefield. And the number of blocks of contiguous space 100,000 square feet or greater are also down to 68, from 83 in the first quarter, Cassidy Turley data showed.
Meanwhile, there were 16 investment sales of more than $400 million so far this year, which is the greatest number recorded since 2007, according to Cushman & Wakefield data. In addition, average year-to-date investment sales prices chime in at $911 per square foot, far-surpassing the peaks reached in the prerecession years of 2007 and 2008, when the range was between $777 and $842 per square foot, according to Collier's International.