'SuperPier' Slated for Pier 57 in Meatpacking
---
---
New details have emerged on the transformation of the long-abandoned former shipping and passenger terminal at Pier 57 in the Meatpacking District, set to become a "SuperPier."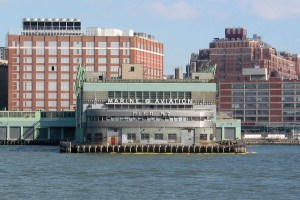 The New York Times reports that the 560,000-square-foot development space will feature a health spa and beach atop a dilapidated rooftop, a food bazaar, a rock-climbing wall and hundreds of shipping containers for stores and startups.
A footbridge, being designed by Marks Barfield Architects, could also connect the pier with the High Line Park if the developer gets approval.
The $200 million project, being developed by Youngwoo & Associates, which has a 49-year lease with the Hudson River Park Trust for the pier, is set to break ground in October for completion in 2015. The firm named the project SuperPier after a 1952 article in Popular Mechanics that detailed the pier's original construction.
The new SuperPier will include what the Times called a "food bazaar akin to a Southeast Asian night market, with noodle pullers and sushi bars," with 400 shipping containers housing about 200 stores and start-ups.
Youngwoo leased a basement space to Brooklyn Boulders for a climbing gym, and the company may build an ice-climbing wall outside. Clothing company Opening Ceremony will open a store on the mezzanine level, at the 15th Street entrance.
Most long-term tenants will be in conventional storefronts ranging from 3,000 to 20,000 square feet and cost $100 to $150 a square foot, while Youngwoo will also offer Incuboxes at a flat rate, according to the report.
The spa includes a "beach," pool and restaurant, with 16,000 square feet of outdoor space with unobstructed views of the river. Architectural firm LOT-EK is designing an atrium and a giant staircase connecting the first and second stories, while part of the rooftop will become a public park and restaurant pavilion.