Manganaro's Staves Off Closure, Inks New Lease
---
---
Just when it seemed that the storied saga of Manganaro's on Ninth Avenue was reaching a conclusion, the famous sub shop has reached a deal to postpone what seemed like an imminent closure.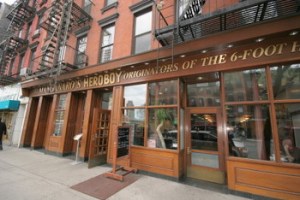 Last week The Commercial Observer reported that the famed Manganaro's Hero Boy would be moving out of its West Side home after the $15.75 million sale of the building it occupies and an adjacent building, but the storied shop has struck a deal with new ownership at 492-494 Ninth Avenue to stay in place for the duration of a new long-term lease, sources said.
Although the roughly 3,700-square-foot space was to be delivered vacant, according to Massey Knakal, the firm that arranged the sale, new ownership of 484 Ninth Avenue and 492-494 Ninth Avenue became amenable to the deal after several meetings with restaurateur and owner of Manganaro's Hero Boy, James Dell'Orto.
The sources were unable to specify the terms of the lease, citing a confidentiality agreement, but they confirmed that the long-term arrangement had been solidified.
The Manganaro's Hero Boy remained in place after a reported family spat led to the closing of the grocery store by the same name next door, which dated back to the 1890′s, leaving the Hero Boy to satiate the appetite of the dispirited Italian-American community on its own.
The two properties that house the retail spaces, nestled between Hudson Yards and Times Square, combine for 28,529 square feet, with a total of 28 residential apartments and three retail units. Roughly 16,000 square feet of unused air rights also exist on the properties.
Ownership at Manganaro's and the new owner of the properties, Kano Real Estate Properties, declined comment.