Beacon's Closet Relocates Flagship Brooklyn Store
---
---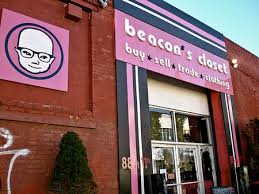 The vintage clothing thrift shop Beacon's Closet will be relocating its flagship location in Brooklyn–but not by far.
Beloved and begrudged by hipsters from Williamsburg on down to Park Slope, the popular retailer is taking a 7,500-square-foot space at 74 Guersney Street, a one-story building that was previously occupied by a woodworking shop for the past 20 years.
Beacon's Closet will relocate from its flagship location at 88 North 11 Street  where it has been located since 2002, to the new building, which is near Greenpoint. With it vintage pieces and second-hand clothes, the store has thrived since 1997.
"The space at 74 Guernsey Street was ideal for the relocation of Beacon's Closet as they begin a new chapter in their business," said Neil Dolgin, co-president of Kalmon Dolgin Affiliates and broker on the transaction.
"Nestled between Greenpoint and North Williamsburg, the location is fast becoming a popular area for retailers and restaurants, and Beacon's Closet adds to the value and appeal of the neighborhood," added Mr. Dolgin. "The tenant will benefit from high pedestrian traffic and a strong customer base."
The store also has two additional locations at 92 5th Avenue in Park Slope and 10 West 13th Street in the East Village, alongside several other thrift stores like Buffalo Exchange.
Mr. Dolgin was joined by Grant Dolgin in representing the owner, an undisclosed party. Another Kalmon Dolgin affiliates broker Heather Rae Hatton represented Beacon's Closet, which discovered the space by watching a video tour that Ms. Hatton had posted online.