Barclays Center Seeks Second-Year 'Efficiencies'
---
---
The busy Barclays Center in Brooklyn may have earned steady revenue in its first year, but the cost of running the building to ensure a good customer experience means a "slower-than-expected ramp-up" and a drag on Forest City Enterprises operating margins, officials said this morning.
Coming soon are some "efficiencies," yet unspecified, but likely involving staff, given previous statements that start-up staffing was higher than anticipated over the long-term. "We have, with the arena management, come up with ways to keep the service level but drive the efficiencies at multiple areas within the building," MaryAnne Gilmartin, CEO of subsidiary Forest City Ratner, told investment analysts during a conference call this morning to discuss second-quarter results.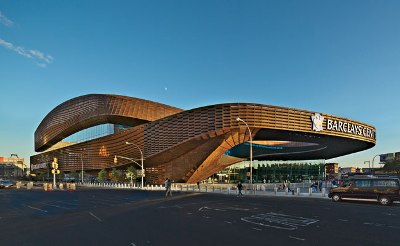 Forest City Enterprises CEO David LaRue said the "slower-than-expected ramp-up" of both the arena and the company's Ridge Hill retail complex in Yonkers drove results "behind our internal projection by approximately 3 cents per share in FFO [funds from operations]."
"Make no mistake. Barclays Center has been exceptionally well-received in the market and has done very well from a revenue standpoint," Mr. LaRue said, noting that the investment was made to "ensure a high-quality customer experience. (The Disney-trained staffers have generally drawn praise.) 
 "As we said previously, we expect the arena to be fully stabilized in 2016," he added. That's when the New York Islanders hockey team moves in. 
Forest City Ratner, which was recently awarded the redevelopment of the Nassau Coliseum with Barclays Center partner Mikhail Prokhorov, "expects to reap meaningful synergies and efficiencies from both venues, across a wide range of shared management, programming and marketing opportunities," Mr. LaRue said.
Forest City plans "to seek a majority partner for redevelopment of Coliseum," Ms. Gilmartin added. "Therefore our equity will be modest, and we will perform fee development services for the design and construction of that building."
Forest City has embarked on a more ambitious search for an investor willing to buy 50 to 80 percent of Atlantic Yards, representing a potential 15 towers and excluding the arena and the under-construction B2 residential tower. Forest City would retain control.
Is Forest City aiming to get more than book value of the land?
No, said Mr. LaRue. "We are planning on the conservative side." He noted that the project, which was announced in 2003, has had some bumps: "Delays that occurred for numerous reasons, the recession being obviously the largest, did increase our cost on a per-square-foot basis. So, we'll see how the negotiations and the offers come in." 
No one asked about the progress of B2, the first modular tower, though Forest City's filings last week indicated that the building, previously said to be due by the second quarter of 2014, is now expected to be finished by the fourth quarter.
One analyst asked if Forest City would try to market the air rights for development over its Atlantic Center mall just north of the arena.
"They are not part of the Atlantic Yards transaction," Gilmartin responded. "We do believe there is value there but … the priority is activating Atlantic Yards."