Aquila Management to Relocate to Tower 45
---
---
Aquila Management, a sponsor and distributor of mutual funds, will relocate to 120 West 45th Street, also known as Tower 45, from 380 Madison Avenue. The company has signed a 15-year lease for 8,032 square feet on the 36th floor of the SL Green (SLG) property.
The tenant will pay rent in the high-$60s per square foot, according to data from CompStak. Asking rent for the space was $72 per square foot.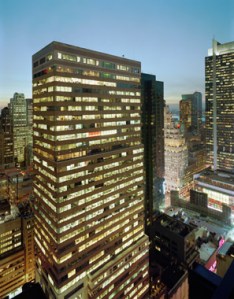 "Tower 45 is a centrally located Class-A building with extraordinary tower floor views, high end finishes and terrific proximity to the 6th Avenue corridor, Bryant Park, the three major transportation hubs and all of Midtown," Paul Glickman, vice chairman at Jones Lang LaSalle, who represents the landlord, said in an emailed statement. "SL Green is a premiere owner and its recently completed renovation of the building's entrance, plaza and lobby has made the property even more attractive to tenants."
Leases are out on 30,000 square feet of additional space at Tower 45 and once signed will leave the building with an availability rate of 8 percent.
Aquila Management offers funds across a number of asset classes, including equity, corporate debt and tax-free municipal debt. The company previously paid in the high-$50s per square foot at 380 Madison Avenue, where the leasehold, held by Sheldon Solow, expires in 2014.
The expiring leasehold may have played a role in Aquila Management's relocation, but a spokesperson reached for comment could only confirm that the company had been looking for new space.
As reported by The Commercial Observer, World Business Lenders signed a 23,406-square-foot lease across the entire fifth and 29th floors at Tower 45 in July.
Tatiana Tarassenko and Eric Schmall of Studley represented the tenant in the transaction.
SL Green did not return requests seeking comment.
120 West 45th Street
,
380 Madison Avenue
,
Aquila Management
,
CompStak
,
Eric Schmall
,
Paul Glickman
,
Sheldon Solow
,
Studley
,
Tatiana Tarassenko
,
Tower 45
,
World Business Lenders LLC
,
JLL
,
SL Green