52 Vanderbilt Welcomes Shazam
---
---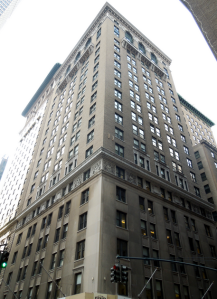 Shazam will be leaving its office at 230 Park Avenue to relocate to 52 Vanderbilt Avenue. 
The music identification service company will take the entire 19th floor of Brause Realty's Class A building spanning approximately 9,275 square-feet. Founded in 1999, the company pioneered the way users could find and identify songs by recording a short soundbite and has grown to service two million users per week.
"Shazam was attracted by the opportunity to occupy its own floor with great light and views in a boutique-style building located in close proximity to Grand Central Station," said Evan Margolin, a senior managing director at Studley, in a prepared statement.
"JLL worked alongside Brause Realty to market the many distinctive features of 52 Vanderbilt Avenue to technology firms looking for upscale office space," said Lloyd Desatnick, senior vice president of Jones Lang LaSalle. "The music ID service's new space on the 19th floor is being built out by Brause to foster natural lighting through its offices, and to highlight the exposed high ceilings."
Mr. Margolin and Mr. Desatnick were joined by colleagues in representing both parties. Mr. Margolin worked with assistant directors Lance Leighton and Gabe Marans at Studley. Mr. Desatnick was joined by Frank Doyle and Alexis Tener Petrus of JLL and in-house brokers Melissa Brause Rackoff and David Brause.
"We are excited to welcome Shazam to 52 Vanderbilt Avenue," said Mr. Brause. "Our boutique office building is rapidly becoming known in the market as an emerging hub where technology and traditional companies converge."
Several other technology firms have joined the building recently including AdLarge Media and SocialFlow, both of which took full floors.
230 Park Avenue
,
52 Vanderbilt
,
AdLarge Media
,
Alexis Tener Petrus
,
Evan Margolin
,
Gabe Marans
,
Lease Beat
,
Llyod Desatnick
,
Shazam
,
SocialFlow
,
Studley