DMV Relocating to 21 Penn Plaza
---
---
The Department of Motor Vehicles is trading Herald Square for 21 Penn Plaza, where the government agency will receive a complete build out—featuring a separate entrance and lobby–from landlord the Feil Organization.
The DMV has signed a 10-year lease for 27,500 square feet at the building. The deal includes the entire second floor and a 1,385-square-foot street-level space.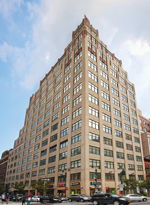 "Building a separate entrance was critical for the deal," David Turino of the Feil Organization told The Commercial Observer. Per the terms of the deal, the landlord will install an escalator, elevator and stair case in the lobby to separate the DMV's foot traffic from that of office tenants.
"We had a lot of vacancy in the building and we were worried about the DMV being seen negatively," Mr. Turino noted. "As it turns out, we have leased quite a bit more space."
Vacancy at 21 Penn Plaza, owned in joint-partnership by Feil and Savanna, had been as high as 22 percent in recent weeks, but leasing activity, including an internal expansion for Saks Fifth Avenue, has seen that number fall to 7 percent.  The retailer, previously an occupant on the building's sixth, 16th and 17th floors, recently snapped up the entire fifth floor.
Approval permits have been received for the built out and the Feil Organization expects to have the DMV's space ready for occupancy by spring of 2014. Based on the extensive renovation requirements, the landlord's typical asking rents of approximately $46 per square foot were well exceeded in the DMV's deal.
"As with many government tenants, they ask you to complete soup to nuts installation for them," Mr. Turino said of the deal, previously reported by Crain's New York. "The rents were well in excess of what we would have asked a traditional tenant.
Mr. Turino and Randall Briskin represented the landlord in-house. The State of New York represented the DMV.