Storefront Aims to Create Pop-Up Marketplace
---
---
San-Francisco-based Storefront, a company that helps match pop-up retail tenants with short-term space, has launched its New York City arm.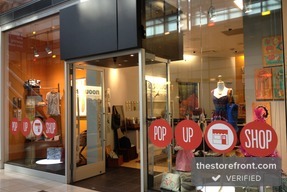 The firm streamlines the process for short-term retail tenants looking to avoid the inevitable hassles of longer term leases, company executives told The Commercial Observer.
"They run into the same hurdles as a tenant signing a 10-year lease," said Michael Gray, the company's head of business development.  "We streamline the lease documents and enable them to have the entire experience online."
The company – launched in San Francisco in December 2012 – recently scored $1.6 million in seed funding from angel investors including Mohr Davidow Ventures, Great Oaks Venture Capital, 500 Startups, BoxGroup and Sand Hill Angels, and over the past six months the company has helped over 100 large and local brands open pop-up shops in San Francisco, the firm's CEO Erik Eliason told TechCrunch.
So far, the firm has about 40 New York City listings with daily and monthly rents ranging from $2,000 per day to $25,000 per day for a space known as Vanderbilt Hall, located just off of Grand Central Terminal's main concourse.
Brokerages including Colliers International, Cushman & Wakefield, Jones Lang LaSalle and CBRE are working with Storefront to list their pop-up spaces and to secure tenants for them, according to a prepared statement from the firm.