Microwave Broadband: An Alternative to Fiber
---
---
Installing fiber broadband in buildings increases download and upload speeds.
Many buildings in the city currently have copper wires, which cannot provide the requisite bandwidth that tech companies need. Ideally, every building should be wired with fiber. However, installing fiber cables is a complicated and expensive process. ConnectNYC.com estimates that it costs, on average, $50,000.00 to update a single building.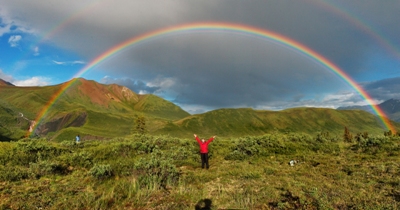 Some buildings require extensive preparatory work, which renders them a poor investment for Internet Service Providers (ISPs). Most landlords are unwilling to cover the considerable installation fees and as a result, portions of the city are being labeled as fiber deserts, an appellation of negative connotation.
Another setback comes from New York landmark laws, meant to protect NYC's stylistic heritage. ISPs must agree to repave cobblestone streets with original cobblestones if they plan to place fiber in dug-out street trenches.
Another pesky problem for installing wires is overcoming permitting restrictions. The city has a lengthy permitting process that dictates narrow time limits. It's nearly impossible to expedite the process, some experts warn.
An alternative to fiber installation, Rainbow Broadband, is a company located in Manhattan that uses microwave antennas for what they call a hybrid fiber microwave network (HFM). Using distribution hubs that are strategically placed on building rooftops spread throughout the city, fiber-level speeds are then beamed to buildings within the HFM line of sight. By placing antennas on rooftops, Rainbow is able to circumvent permitting and construction issues.
Russ Hamm, president of Rainbow Broadband, began the process of placing antennas on top of buildings eight years ago. Currently, Rainbow services 186 buildings throughout New York City and is considering expanding into other cities.  Although the city is working to install fiber in buildings from the ground up, Mr. Hamm believes Rainbow's business model is secure. As Mr. Hamm explains, "Most of the buildings that we service cannot make a business case for installing fiber."
Here's why: Installing fiber in a building is expensive and small commercial buildings do not see enough tenant traffic to cover these expenses. Rainbow, however, bypasses this issue by installing antennas, a relatively cheap process. Customers are charged a minimal installation fee, which is waived if they sign a three-year contract. Like traditional ISPs though, Rainbow does pay landlords "rent" for the right to keep the antennas on the roof and service their tenants.
Unlike most providers, Rainbow's speeds are symmetrical, meaning that download and upload speeds are equally fast. Rainbow claims it can reach speeds of 500 Mbps, and on average, services tenants with speeds from 25-200 Mbps. Ethernet cables attached to computers provide the quickest connections, but Rainbow is also able to make an entire space Wi-Fi enabled, allowing compatible devices speeds of 50 Mbps. In order to remain competitive, Rainbow's tenant fees are on par with most other providers.
As Mr. Hamm puts it, "For 100 Mbps the going rate is around $2,200 and that is where we are." It is hard to provide reliable cost estimates because each building brings its own unique set of challenges. Time Warner Cable, for example, may be a bit less expensive, but the comparison is skewed because Rainbow's largest advantage is their ability to wire buildings ISPs refuse to service.
With comparable speeds and prices and no pesky permitting constraints and large installation fees, why would anyone choose to install fiber in the ground? One problem with microwave broadband is that buildings must strategically lie within the line of sight of distribution hubs. Rainbow's growth over the past eight years has helped mitigate this issue, with hubs popping up in numerous locations throughout the city.
However, if a building is too far away from a hub, rain, snow and fog can delay a connection. Another fear with microwave broadband is latency, which refers to delays in network speeds. For casual browsing, latency is not an issue, but when market trades need to be executed immediately latency can be problematic.
Mr. Hamm readily admits that the "best buildings have both fiber in the ground and microwave diversity off the roof," which creates a broadband redundancy. "Fiber is vulnerable to fiber cuts and flooding and we can provide diversity."
If one connection is stymied the other steps in to ensure continuous service. Ideally all buildings would have this luxury, but for those buildings that cannot readily have fiber installed, microwave broadband may be the best, if not the only, option.