Mayoral Candidates Weigh in on Tech Expansion: John Liu
---
---
Mayor Bloomberg has been a vocal advocate of moving New York City toward the center of the tech world, but with the end of his third term approaching, the future of his vision is in jeopardy, especially where it concerns broadband technology. Throughout the day, Wired City will be publishing a series of interviews with several of this year's crop of mayoral candidates, asking each where he or she stands on issues regarding broadband and how best to upgrade the city's aging infrastructure.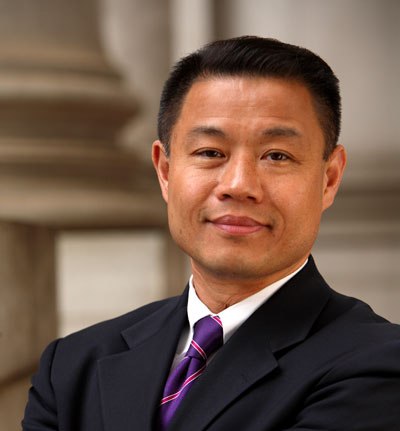 In 2009, with his election as comptroller, Mr. Liu became the first Asian-American elected to a citywide office. His passion to win the mayoral race is undeniable (see here), and when talking to him, his ambition is conspicuous.
Wired City: How would you rank the city's tech progress and infrastructure?
Mr. Liu: Well, first of all, New York City has been and continues to grow as a city attracting talent from all over the country and the world. And I don't know that a single individual can claim credit for that. In fact, our city's infrastructure is terrible; it's awful. You don't hear the extent of complaints of dead spots or lack of broadband access in any other city. From cell conversations getting dropped to small business waiting to get responses from the cable or phone companies—do you know how long it takes to get a damn appointment? So, the infrastructure is terrible. If there were more attention paid to the basics, we would be better off. We don't need marketing or incentives; what we need is infrastructure, and City Hall should be paying far more attention to that.
Do you foresee a future administration focusing on these issues in the coming years?
Mr. Liu: Under my administration, I certainly would make it a priority. The basics have been neglected.
What is the best way to fix our infrastructure?
Mr. Liu: It starts with telecommunication companies and, where possible, expanding the city's own capabilities. Ten years ago, the Bloomberg administration embarked on a project that would have greatly expanded the connectivity of all city agencies. That could have served as a platform to improve connectivity for people beyond city government. Yet the results have been mixed at best. This system was going to expand the connectivity of the city, and I don't think much has been seen. This is not a new idea, to focus on our infrastructure, but the efforts have not been noticeably successful.
One of the biggest issues for getting fiber broadband in buildings is permitting. Can the city quicken the permitting process?
Mr. Liu: Absolutely. The Department of Buildings process is simply atrocious from the point of view of building owners.
Connectivity in subways is terrible. Would you work on this if elected?
Mr. Liu: Yes. In fact, I spoke about this when I was chair of the transportation committee [as a City Councilman] 10 years ago. It's ridiculous to ask people if they see something, say something, when they can't get in touch with anybody! It's not only the lack of cell service, but there are no phones down there! That would be a priority. I was in Seoul, Korea, and I hate to admit it, but they beat the pants off us when it comes to technology and connectivity.