Angelo Gordon Adds 34K at 245 Park Avenue
---
---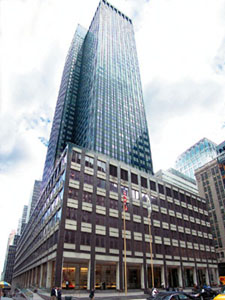 Angelo Gordon has tacked on a 34,000-square-foot addition to its office at 245 Park Avenue, The Commercial Observer has learned.
The deal is the firm's second expansion in the last year. Angelo Gordon initially added about 20,000-square-feet to its 55,000-square-foot occupancy last June bringing them to a total of 74,000-square-feet.
The new addition will throw the firm over the six digit threshold and, coupled with some floor moves and shuffling, puts the total occupancy upwards of 110,000 square feet in the 1.6-million-square-foot building.
The deal, as Crain's New York notes, is in effort of rearranging their spaces to align in a contiguous stack. Prior to their first expansion, the company faced the annoyance of having to return to the lobby to transfer to another elevator shaft to shuttle between their non-contiguous suites in the building.
This expansion and move will give them three sequential floors.
David Falk and Peter Shimkin of Newmark Grubb Knight Frank are responsible for all leasing activity at Brookfield Properties' building and did not return calls for comment.
The asking rent was for the space was not disclosed, but rens in the building are typically requested in the $80s per square foot.
Angelo Gordon is well-known in the city for being the developers behind Chelsea Market which transformed the former National Biscuit Factory's complex – where the Oreo was invented and produced – into a popular food court and shopping center in the Meatpacking District. The firm also purchased the Japanese steak house chain Benihana in 2012 for $300 million dollars.