32 New York City Parks Get Wired
---
---
In a joint release last Tuesday, Cablevision and Time Warner Cable announced that 32 New York City parks will receive Wifi service. Cablevision and Time Warner Cable will maintain the service through 2020.
Rahul Merchant, New York City's chief information and innovation officer, explained that the initiative was "negotiated as part of franchise agreements with Time Warner Cable and Cablevision Systems," and that it "expands Wifi service to millions of New Yorkers and visitors in some of our city's most beautiful and historic sites."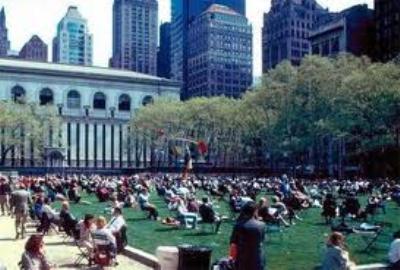 The program is another attempt to expand connectivity, but the login fees and restrictions have many analysts confused.
Guests can log in for free for 10-minute intervals, limited to three times within a 30-day period. The full service is free for Time Warner Cable and Cablevision subscribers, but must be purchased for 99 cents per day by those who do not subscribe.
With the browsing capabilities cellphones provide, some analysts have questioned the utility of the program. However, Lee Schroeder, Cablevision's senior vice president of government and public affairs, explained the program as follows: "This initiative enables our customers to easily, automatically connect to Wifi and help save on expensive cellular data charges."
This program appears particularly relevant in the summer months, when park-goers are most likely to sit outdoors and browse the web. The issue is that after 10 minutes, users are logged out. As the Big Apple is currently suffering through a heat wave, maybe 10 minutes outdoors is enough, though.
The program is an addendum to the franchise fees Time Warner Cable and Cablevision pay to the city and is valued (together with other similar programs) at $60 million.