Condo Board Files $10M Suit to Block Denny's
---
---
A lawsuit for up to $10 million was filed yesterday by the condominium board of 150 Nassau Street in an attempt to block a Denny's restaurant from operating out of the property's commercial space, The Real Deal reported.
The condo board is requesting the New York Supreme Court block the restaurant from operating out of the building. The board argues the restaurant will attract disruptive crowds and violate  the structural integrity of the property, according to the report.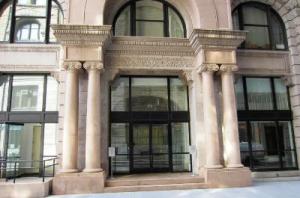 "In stark contrast to the dignity and storied character of this quiet, residential, family-oriented building, Denny's is a fast food chain synonymous with a late night party atmosphere, as well as drunk, disorderly, violent and criminal conduct," said the complaint, filed by Gabriel Levinson, a partner at Tarter, Krinsky and Drogin.
Babaev Group, owners of 150 Nassau Street's commercial space, told The Real Deal it expects to prevail in any legal proceedings.
"We'll defend it vigorously," Meir Babaev, owner of the Babaev Group, said in an interview with TRD. "We're going to have a Denny's in the building one day."