James Hotel Sold for $83.4 M.
---
---
The James Hotel in SoHo has been sold, just three years after its grand opening, city records confirm.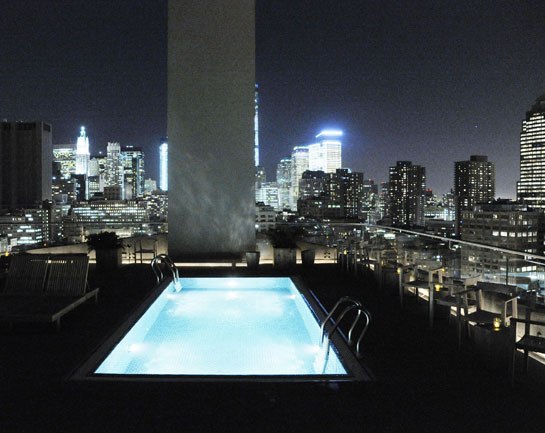 Published reports earlier this month quoted the sale at $85 million, but the city officially recorded the sale price at $83.4 million.
Global real estate investment and development company Brack Capital Real Estate announced earlier this month that it would be selling the property, while assuring investors and the media that Denihan Hospitality Group – and Chef David Burke – would continue to manage the hotel's operations and its menu, respectively.
"We were always incredibly confident in the potential presented in this well-situated location for a one-of-a-kind property and are pleased to see this hotel not only meet our goals, but exceed expectations," Brack CEO Issac Hera said in a statement making the announcement. "This sale offers a strategic opportunity to continue applying our vision and building our presence in today's thriving marketplace."
The buyer – undisclosed at the time Brack made the announcement – was listed on city records in the "care of" Prudential Real Estate Investors, which often indicates the actual buyer of the property, but the investment group could not be reached for comment.
Mr. Hera did not return messages left by The Commercial Observer in time for publication.
The 114-room hotel (formerly the Grand Street Hotel) opened in the summer of 2010, boasting on-site restaurants, a rooftop bar and lounge, a pool, and often hosts local artist galleries. The hotel is one of three under the James branding, the others located in Chicago and Miami.
The bar and rooftop lounge, known as JIMMY, is "a contemporary interpretation of a classic pub with a 1970's New York twist," with herringbone floors, a leather trimmed solid wood bar top, brick glazed tile walls, blue upholstery and working fireplaces, according to a website dedicated to the James hotel line.
The hotel is also home to The Treehouse Bar, The Garden and the David Burke Kitchen Bar.
Brack still owns or is developing at least six other New York hotels. The firm is developing two in the Lower East Side and one in Times Square.
Brack Capital Real Estate
,
Chef David Burke
,
David Burke Kitchen Bar
,
Denihan Hospitality Group
,
Grand Street Hotel
,
Issac Hera
,
JIMMY
,
Prudential Real Estate Investors
,
SoHo hotel
,
The Garden
,
The James Hotel
,
The Treehouse Bar