Eichner Plans Comeback with Harlem Park Site
---
---
With a number of projects in the pipeline, Bruce Eichner is planning a dramatic comeback to New York real estate with an 80/20 residential project at the Harlem Park site he agreed to acquire last week.
Mr. Eichner is in the midst of an architectural competition for the planned development at 1800 Park Avenue and 125th Street, The Commercial Observer has learned.
"He is going to do something creative with the building," Geoffrey Newman, senior managing director at Newmark Grubb Knight Frank, said of the project. "For a rental perspective, I think it's going to be a spectacular building."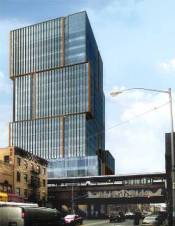 The project will include 70,000 square feet of retail space at the base, according to Mr. Newman, who brokered the sale for Vornado Realty Trust. "We've generated a lot of retail interest since the transaction closed," he said.
Macy's has been actively seeking space in the 125th Street area, according to a source familiar with the situation, but the property could appeal to a number of big box retailers.
Mr. Eichner's plan is to be in the ground by next summer. From there, it will take 24 to 30 months to complete the development. The retail component is expected to be ready for occupancy after 24 months of construction, with rents for the ground floor commanding up to $150 per square foot.
Last week, Vornado announced it had agreed to sell the site for $65 million plus conditional brownfield credits.
The real estate investment trust had originally planned to find a tenant for the property but after a series of negotiations with a number of retailers and a back office tenant, Mr. Newman approached Mr. Eichner, who he had been working on another project with, about buying the property.
"I thought he was the right kind of guy for Harlem Park because all along I thought the best use was an 80/20 building," Mr. Newman said.
The sale of the site to Mr. Eichner was agreed back in January and contract negotiations with a prior partner of Vornado's had been ongoing since that time.
"There was an existing partnership with the land owner, Michael Caridi," Mr. Newman noted. "Vornado had to work out issues revolving around money and splits, but for Eichner it was pretty straightforward."
Vornado's plans for the site fell apart in 2008, when the REIT lost proposed anchor tenant MLB Networks.
"The deal they had with MLB fell apart when the world fell apart, when that happened [Vornado] sat on the property," according to Mr. Newman. "Their thinking was that eventually 125th Street would come around to them."
Financing details for the project were not immediately available.