TOWN Renews at 110 Fifth Avenue, H&M Could Follow
---
---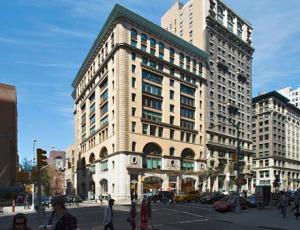 The Manhattan-based real estate services firm, TOWN Residential, has re-signed its retail lease in Flatiron, officials told The Commercial Observer.
Their office, housing 125 licensed representatives and staff members, spans 17,000 square feet across the sixth floor of 110 Fifth Avenue.
"TOWN Flatiron is the nucleus of our downtown presence, and a hub for top talent, including Wendy Maitland, the true superstar of the office and one of TOWN's chief architects, who oversees the fully-seated office," said Andrew Heiberger, founder and chief executive officer.
"As we continue to unroll the TOWN business model at 110 Fifth Avenue, we are proud to reaffirm our belief in the TOWN hallmarks that have been a mainstay of TOWN Flatiron since we opened doors in December 2010, including game-changing service components like the TOWN Concierge and the TOWN Square community space."
Located on Ladies' Mile, the corridor on Fifth Avenue known for its upscale fashion retailers, the area has attracted some of the largest names in fashion. Joe Fresh, the Canada-based retailer that stormed the city in recent years, operates a retail location on the ground floor of 110 Fifth Avenue. Sources close to the deal also noted that H&M is rumored to be taking the top three floors of the building.
"Between the global retailers assuming prime real estate along this corridor of Fifth Avenue, and the growing workforce that the tech sector is drawing to the neighborhood, TOWN is poised to continue its pattern of success as a top-ranked New York residential real estate firm," said Chris Mongeluzo, an executive managing director of Newmark Grubb Knight Frank.
Mr. Mongeluzo represented  both TOWN Residential and the landlord, Rabina Management, in the ten year deal.
A call to H&M wasn't immediately returned.