Pearl Street Restaurant Collection to be Fully Operational This Month After Sandy Delays
---
---
A team from Winick Realty Group has built on the restaurant boom it started on Maiden Lane and brought three new fast food tenants right around the corner to Pearl Street.
Yushi Asian Kitchen, Roti Mediterranean Grill and the quick service vegetarian vendor Terri have landed in a 4,800-square-foot block at the back of 100 Maiden Lane vacated by HSBC. Winick Executive Vice President Darrell Rubens and Director Lee Block divided and leased the space.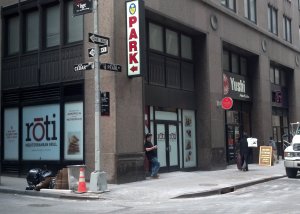 Messrs Rubens and Block were responsible for bringing the food tenants Chipotle, Dunkin Donuts, Subway, Gristedes, Just Salad, Hot Clay Oven and Good Burger to Maiden Lane starting five years ago.
Roti is the last of the trio to open, and will debut within the next two weeks. The arrivals of Roti and Terri were delayed by about three months by Superstorm Sandy. Terri signed its lease the day before the natural disaster wreaked havoc on Lower Manhattan. Asking rents for the entire 4,800-square-foot space were around $200 per square foot.
"I think the restaurant market down there is better than ever," Mr. Rubens said. "If you were in the neighborhood during the two months after Sandy, it was just terrible across the board."
Another imminent culinary arrival will test the market's resiliency when Brookfield Properties opens an eight-tenant fast casual restaurant compound in  Brookfield Place (formerly the World Financial Center) next year.