Hip To Be Square: Only Thing Slowing Leasing Activity in Hudson Square is Lack of Space
---
---
Perhaps better known as the gateway to the Holland Tunnel, the burgeoning Midtown South submarket Hudson Square has, in recent years, begun to attract the type of creative tenants that in previous years flocked to neighboring Chelsea and NoMad.
Dominated largely by Trinity Real Estate, with its centuries-old real estate tradition, the market's other owners have started to cater their properties to an exciting new breed of tenant, and a neighborhood improvement plan is not far behind.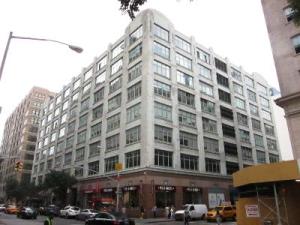 In their efforts to attract media and tech tenants to Hudson Square, real estate owners have employed a number of strategies, ranging from property enhancements to website design.
"We continue to be optimistic about the area as new, creative tenants sign leases," said Brett Greenberg, managing director at Jack Resnick & Sons, whose portfolio in Hudson Square includes 250 and 315 Hudson Street.
While its real estate holdings in Hudson Square may pale in comparison to Trinity's 5.5 million square feet of office space, Jack Resnick & Son's properties on Hudson Street are beginning to attract big-name creative tenants. Both properties are 100 percent leased and occupied; their tenants include TED Conferences, which leased space last year in 315 Hudson Street, whose lobby was recently renovated to include a new marble floor, a concierge desk and renovated elevator cabs.
"We have a phenomenal roster of tenants across all different industries, and we continue to grow and thrive in the area," Mr. Greenberg said.
Not to be outdone, Trinity Real Estate has instituted its own plan to bring a new category of tenant to its properties that has included reshaping its website.
"We have a user-friendly website geared more toward that Midtown South vibe," Jason Pizer, Trinity's president, told The Commercial Observer (see interview, page 30). "It has a very creative flavor."
Trinity has also repositioned its properties to include amenities that creative tenants seek, including bike rooms, open spaces and recycling programs.
"We're trying to be sustainable," Mr. Pizer noted. "We're trying to tell our tenants we want to be at the forefront of sustainability."
Sustainability is a trend throughout the neighborhood, where Jack Resnick & Sons' aforementioned properties at 250 and 315 Hudson Street have been awarded the EPA's Energy Star award. The building at 315 Hudson Street has also been registered with the U.S. Green Building Council for LEED certification.
The community of Hudson Square is not far behind in adapting to the changing tenancy in the market. In October of last year, the Hudson Square Connection, a business improvement district, released a $27 million, five-year master plan aimed at promoting a green and sustainable neighborhood with pedestrian improvements.
"The public realm of Hudson Square will soon reflect the creativity that defines the businesses in the neighborhood," Ellen Baer, president of the Hudson Square Connection, said in a statement at the time of the announcement.
The collective investments have paid off. With just a 3 percent vacancy rate in Trinity's portfolio, and no availability in Jack Resnick & Sons', there has been no letup in activity or interest.
"We've certainly been just as busy as we were last year and the year before," Mr. Pizer said. "We're not leasing up as much space, because we don't have any, but between proposals going out and space tours, activity is just as robust."