444 Madison Avenue Leases 40th Floor, Triple Digit Rents on the Rise
---
---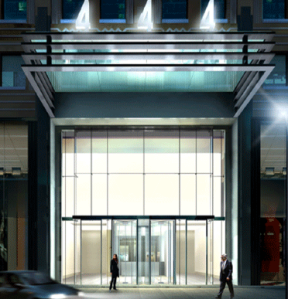 Ellis Lake Capital is set to take one of the top floors in 444 Madison Avenue, and at more than $100 per square foot, the deal is among the biggest of the year and an indication that the market is picking up steam.
The firm will be leaving 623 Fifth Avenue, where they occupied an office on the 16th floor, in favor of the 40th floor of Westbrook Partner's trophy building. The 5,400-square-foot office spans the entire floor with breath-taking views of the city.
An exclusive leasing team from CBRE (CBRE) consisting of Paul Amrich, Elie Gross, Patrice Meagher, and Kerry Glynn Powers represented the landlord. The team declined to comment on the deal.
Notably, Ellis Lake Capital is one of the latest firms to ink a deal with asking and taking rents over $100 per square foot. The triple digit taking rent market came crashing down in the recession, but a handful of luxurious buildings are seeing a rise in deals.
"There were 36 deals last year with taking rents above $100 per square foot," explained Jonathan Mazur, director of research at Cushman & Wakefield (CWK). "Now, this year, a quarter and five days into the year, there have been sixteen deals."
"We're seeing a little momentum in the top of the market," he added. Historically, the market peaked in 2007 and 2008, in which both years experienced over 90 deals each. Taking those out, the market remains at above average levels for the last ten years.
With the 41st floor of 444 Madison Avenue currently available for leasing, it puts into question the dynamics that push the markets from average class A levels over the $100 threshold.
"There are a few things that come into play at the top of market," Mr Mazur said, explaining the differentiation between Class A buildings in the $60s, $70s, and $80s compared to those in excess of $100 per square foot. "New construction can take that number higher. Same with park views, proximity to parks, building amenities, strong management, and location."
Mr. Mazur noted that the taking rents in the Plaza District–along Park, Madison, and Fifth Avenues–can tip $100 per square foot.
"It's not just one or two buildings, either," Mr. Mazur added. "Of the sixteen deals this year that have taking rents $100 or over, 11 of those deals have been in a unique building."