WeWork Leases 120,537 Square Feet at 222 Broadway, Builds Momentum of "Downtown North"
---
---
The collaborative workspace provider WeWork (WE) signed a 16-year, 120,537-square-foot lease at 222 Broadway, The Commercial Observer has learned.
David Berkey and Andrew Wiener represented the building owner L&L Holding Company in-house. Mark Lapidus of WeWork and Sean Black of Jones Lang LaSalle represented the tenant. Asking rents at 222 Broadway are in the mid-$50 per square foot range.
WeWork typically provides communal office space to tech and new media companies, making the lease another sign of Lower Manhattan's growing appeal to that type of firm. Mr. Berkey was quick to point out that tech and media tenants are "nothing new" in the neighborhood.
"I've been telling whoever will listen that for two years now we've seen nothing but this kind of tenant here and at [L&L's] 195 Broadway," Mr. Berkey said. "We haven't seen financial services or law firm tenants. It's not a new phenomenon by any stretch."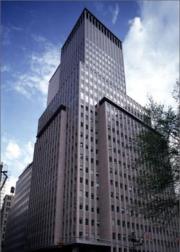 Mr. Berkey cited the wedding planning website The Knot as the tenant that started the creative-digital wave when it inked a deal at 195 Broadway about two years ago. Since then, limber new media organizations and old media titans like Conde Nast and HarperCollins have jumped off the Midtown and Midtown South bandwagons in favor of the Financial District, or, more accurately, a microcosm of the district that Mr. Berkey and his colleagues call Downtown North.
"[L&L] likes downtown but we're not necessarily about downtown," Mr. Berkey said. "We really consider ourselves part of Downtown North, which is a neighborhood unto itself." Mr. Berkey defined the sub-neighborhood's heart as the intersection of Broadway and Fulton Street, where 195 Broadway and 222 Broadway occupy diagonal corners. Both buildings are now 100-percent leased. St. Paul's Church takes up a third corner; the in-progress Fulton Center transportation hub is another boundary, although Mr. Berkey said the borders might stretch south to Maiden Lane and west to 3 and 4 World Trade Center.
"The reason we bought the intersection is its proximity to transportation and everything else going on downtown," Mr. Berkey said. "Many of the young workers in the area live in Brooklyn, Hoboken or the East Village," which are easy commutes to Lower Manhattan.
Rents are also low compared to more established tech and media centers. "Midtown South is very expensive," Mr. Berkey said. "Tenants want to replicate a hip, cool atmosphere, but can't pay $75 or $80 per square foot."
WeWork already has outposts in Soho, Midtown, and the Meatpacking District. "WeWork does what it does very well," Mr. Berkey said. "Everybody works together, as opposed to at a traditional headquarters which is its own little silo. There are no walls, and they promote collaboration. They don't refer to companies that work there as tenants, but rather as members. Members can stay at WeWork until they've got 50 or 100 employees, at which point they look for space in the neighborhood. And they're really excited about this neighborhood, particularly the transportation options."
Representatives from WeWork could not be reached immediately for comment.
Mr. Berkey thinks that Downtown North's prospects are on the up and up. "This is how waves build," he said. "It will really culminate next year when Fulton Center is finished and open and ride up on the beach with [Santiago] Calatrava's PATH station and 1 World Trade Center."
"I'm telling you: Downtown North, Downtown North, Downtown North."
195 Broadway
,
222 Broadway
,
Andrew Wiener
,
collaborative workspaces
,
Conde Nast
,
David Berkey
,
Downtown North
,
Fulton Center
,
HarperCollins
,
Mark Lapidus
,
midtown south
,
Sean Black
,
THe Knot
,
JLL
,
L&L Holding Company
,
WeWork