Tough Mudder Racing to Downtown Brooklyn from Dumbo
---
---
Tough Mudder, a company that stages obstacle races around the world, has signed a lease to take 70,000 square feet of office space at 15 MetroTech Center, Joseph Cirone of Cushman & Wakefield told The Commercial Observer. The company will take the entire seventh and eighth floors in Forest City Ratner's 19-story building.
The deal is a sublease of space currently held by Wellpoint, a healthcare company. Asking rents were in the $20s per square foot.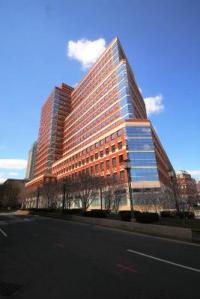 "This is raw space which [Tough Mudder] will build out, they intend to occupy as soon as possible," Mr. Cirone said. Wellpoint's office space in the building is part of a portfolio acquired since 2001 that has been subleased in recent years, he added.
Tough Mudder currently operates from 63 Pearl Street in Dumbo. The company also has a location in London and will open another in Melbourne, according to the company website.
The races held by Tough Mudder stretch between 10 and 12 miles and were designed by British Special Forces. The company is a sponsor of the Wounded Warrior Project and has raised over $5 million for the charity.
As previously reported by The Commercial Observer, Brooklyn-based 3-D printing company MakerBot relocated to One MetroTech last year from 87 Third Avenue. The company occupies the entire 21st floor.
Mr. Cirone and Glenn Markman of C & W represented Wellpoint in the deal. Tough Mudder was represented by Keith Caggiano of CBRE. Crain's first reported negotiations for the sublease last week.
A request for comment to Tough Mudder was not immediately returned. CBRE declined to comment.
15 Metrotech Center
,
63 Pearl Street
,
87 Third Avenue
,
CBRE
,
Cushman & Wakefield
,
Forest City Ratner Companies
,
Glenn Markman
,
Joseph Cirone
,
Keith Caggiano
,
Makerbot
,
One MetroTech
,
Tough Mudder
,
Wellpoint
,
Wounded Warrior Project