SL Green $122 M. Retail Purchase Highlights Metered Q4 Growth
---
---
City records confirm real estate powerhouse SL Green (SLG) Realty's acquisition of a six-story retail, office and residential building at 131-137 Spring Street for $122.3 million late last year.
The acquisition of the prime retail location, adjacent to Chanel's Soho Flagship store, capped off what company executives lauded as a stellar fourth quarter given the economic uncertainty that permeated the industry in 2012.
"It was an excellent, excellent quarter as a standalone, and particularly in light of the headwinds," SL Green CEO Marc Holliday said during the firm's fourth quarter earnings call, referring specifically to the impacts of Hurricane Sandy, the uncertain election and the fiscal cliff crisis.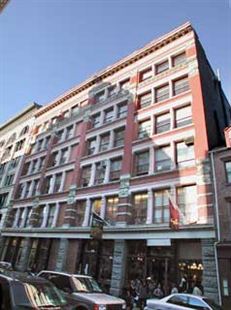 He highlighted the REIT's growing Manhattan portfolio, which culminated in the last minute pick up of the Spring Street property, which according to the deed was finalized on December 28.
The 71,689-square-foot property includes prime retail space – with 100 feet of ground floor frontage between Wooster and Greene streets and currently occupied by Burberry Limited, Diesel USA, Framestore, Inc. and  Havaianas – as well as six residential rental units and upper office space.
The seller, Dublin-based Willett Companies, purchased the property for $46 million in 2006, city records show.
SL Green signed 54 office leases in its Manhattan portfolio totaling 321,622 square feet in the fourth quarter.
In October, the company extended its ground lease at 673 First Avenue to August 2087 – 50 years past its scheduled 2037 expiration date – and it formed a joint venture for a 99-year triple net ground lease on 1080 Amsterdam Avenue, an 82,250-square-foot, 96-unit residential building.
The company also sold a 49.5 percent interest in 521 Fifth Avenue at a gross sales price of $315 million in November, which after a refinancing generated $84.8 million in proceeds for the company, according to the fourth quarter report.
As of December 31, 2012, SL Green owned interests in 85 Manhattan properties totaling 40.8 million square feet.
Company executives handling leasing at the building did not return calls seeking comment in time for publication, but its website indicates that a single retail vacancy remains.
1080 Amsterdam Avenue
,
131-137 Spring Street
,
521 Fifth Avenue
,
673 First Avenue
,
BJ's Wholesale Club Inc.
,
Burberry Limited
,
Chanel
,
Diesel USA
,
Framestore
,
Inc.
,
Marc Holliday
,
Willett Companies
,
SL Green