Lehman to Sell Stake in 425 Park Avenue
---
---
Lehman Brothers Holdings Inc. is aiming to sell its 90 percent stake in 425 Park Avenue, a source familiar with the matter confirmed with The Commercial Observer. Eastdil Secured is marketing the property, according to the source.
A publicly available spreadsheet of Lehman's commercial real estate holdings lists a building with a description similar to 425 Park Avenue: "Sandwich ground lease in an existing Class B building in New York City that is slated for demolition and redevelopment into a new office tower beginning 2015." The list of holdings identifies Adam Spies of Easdtil Secured as the broker for the property. The source familiar confirmed Spies as the broker for 425 Park Avenue, but the listing could not be immediately verified.
The Wall Street Journal first reported the story earlier today. The Midtown East building is set to be demolished and replaced with a new office tower designed by Foster + Partners.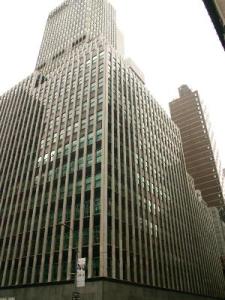 The new tower is being developed by L&L Holdings, which owns the remaining 10 percent portion of the building. Lehman and L&L acquired the building in 2006, according to The Wall Street Journal. As previously reported, the expiring ground lease allows L&L Holdings to empty the existing building as of May 2015 and replace it.
The current building at 425 Park Avenue is 31 stories and 567,340 square feet. In 2007, Lehman valued the property at $84 million, according to bankruptcy documents viewed by The Journal.
Lehman Brothers Holdings previously agreed to sell 237 Park Avenue to RXR Realty for approximately $800 million, The Commercial Observer reported last week.
Calls to Eastdil Secured were not immediately returned.