Cresa New York Takes 13,000 SF in Relocation to 450 Lexington Avenue
---
---
Tenant representation firm Cresa New York has relocated its New York City headquarters from 100 Park Avenue to 450 Lexington Avenue, subleasing a 13,000-square-foot space in a move that highlights the firm's commitment to growth and creating a collaborative work environment.
The firm took about half of the 32nd floor in the 950,000-square-foot, 32-floor Class A office building, located between 44th and 45th Streets in Midtown Manhattan's Grand Central submarket.
The space is the perfect breeding ground for the firm's continued expansion, with a "team-oriented" design and an address closer to Midtown, company executives said.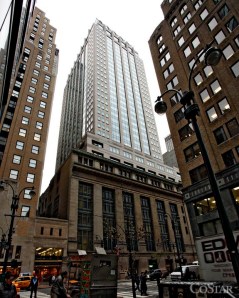 "This is a terrific building and the space has an ideal combination of private offices, conference rooms and open space," Harold Kahn, the firm's managing principal of operations, told The Commercial Observer.
The space features four conference rooms and about a dozen private offices in addition to the open space. The firm has hired 11 new people in the last six months, said Mark Jaccom, president and managing principal of Cresa New York, in a statement.
"Our new office gives us room to achieve our ongoing, ambitious growth plan over the next three years," he said.
When Mr. Jaccom joined Cresa last summer, after six years as CEO and co-chairman of Colliers International, he pledged at the time to implement an aggressive hiring and expansion plan which would double his team of 22 employees to over 40 over the next two years, with consultants making up roughly 15 of those positions.
"It emboldens brokers when they don't have to stand in line to access a consultant," he told this reporter at the time.
Cresa will continue to recruit "entrepreneurial individuals with a proven track record of success" until the figures are met, according to the firm's official announcement on the new lease.
Cresa represented itself in the transaction. RXR Realty, which purchased 450 Lexington Avenue from Dubai-based investment firm Istithmar World in September 2012, did not return calls seeking comment in time for publication.