Ballroom Waltz: A Minute-By-Minute Account of Last Night's REBNY Gala
---
---
Thursday's Real Estate Board of New York gala packed an estimated 2,400 guests into the Hilton New York's overstuffed Grand Ballroom—an increase from last year by about 200. The Commercial Observer walked the room, hobnobbed with brokers and landlords and taste-tested a dinner of steak and potatoes while washing it all down with a few stiff drinks. Staff Reporters Karsten Strauss and Al Barbarino get the inside dish.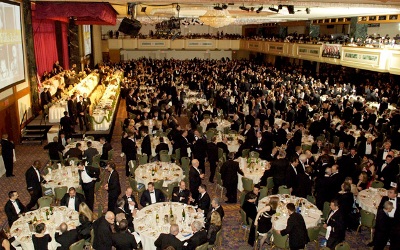 6:01—The 117th Annual REBNY gala is underway and a crowd is gathering around two stocked bars. Drinks in hand, they begin breaking up into small groups of avid talkers.
6:08—"So far so good," said one lender, who was skeptical about the ability to get deals going at the gala. "Sometimes it's more an opportunity to catch up with your clients."
6:15—An attorney from Belkin, Burden, Wenig & Goldman describes the dynamic of the cocktail conversations: "It's like when you're at a bar and you're trying to talk to a pretty girl and she keeps going"—cranes neck—"They're looking at who else is here!"
6:17—Another Belkin, Burden attorney sounds off: "Year in and year out you can go to the same party, stand in the same spot and see the same people."
6:26—David Zar, head of leasing and acquisitions at Zar Property NY, glides through the pre-dinner cocktail party with a strut in his step and a twinkle in his eye. It's his fifth time at the annual REBNY gala. "This is great.  It just puts you in a great mood, unwinding and catching up with old friends," he says cheerfully, despite sipping on a Coke sans alcohol in preparation for tomorrow's procedure, when he will have a kidney stone removed via shock therapy, which requires no incision or surgery, he assures a passerby. "From the outside—they're going to blast it out into little fragments."
6:36—Gala first timers Xanthe Eliopoulos—of Eiseman Levin Lehrhaupt & Kakoyiannis—and Carolyn De Falco—of ReMax—survey the scene over cocktails.
"It's basically a really big party," Ms. Eliopoulos said. Added Ms. De Falco: "I was hoping to do some networking."
6:40—The crowd has officially bloated beyond the bar area and is spreading onto the main walkway.
6:43—"Let's just take a few stories off the top!" said one partygoer to another.
6:47—A fellow broker teases Christopher Okada, president of Okada & Company, for calling her with last minute jitters on what to wear. "I called up four people and they were like tux, tux, tux, tux," he says.  He opted for suit, yellow pinstriped tie, and a white shirt with blue stripes. It's unclear whose recommendation influenced the final decision.  "But isn't he stylish?" asks one broker.
6:50—"I don't attach pictures to my Facebook page," said a young man to a young woman, as they stood by the bar.
7:05—Massey Knakal Partner James Nelson bounces around the VIP room, happy to take a minute to reflect on the extraordinary fourth quarter in terms of investment sales.  "We did over 90 sales in December alone—it was crazy," he says. While optimism is key to the brokerage game, even Mr. Nelson concedes, as others do, that the first quarter of 2013 will mark a slowdown. "It has to after that quarter."
32BJ
,
Alan Kahn
,
Belkin
,
Burden
,
Carolyn De Falco
,
Charles Schumer
,
Christopher Okada
,
Craig Deitelzweig
,
Daniel Lolai
,
David Zar
,
Donald Zucker
,
dottie herman
,
Eiseman Levin Lehrhaupt & Kakoyiannis
,
First American Title
,
James Nelson
,
Joe Koicim
,
Larry Silvestein
,
Mary Ann Tighe
,
MaryAnne Gilmartin
,
Michael Marsicano
,
Mikael Nahmias
,
Mike Fishman
,
murray hill properties
,
Okada & Company
,
Patrick Foye
,
Peter Von Der Ahe
,
ReMax
,
Rockrose Development
,
Steven Spinola
,
Wenig & Goldman
,
William Montana
,
Woody Heller
,
Zanthe Eliopoulos
,
Zar Property
,
Marcus & Millichap
,
Massey Knakal Realty Services
,
Real Estate Board of New York
,
Silverstein Properties