The Incredible Shrinking Tenant
---
---
Earlier this year, approximately 150,000 square feet opened at the Midtown office tower 399 Park Avenue when the law firm WilmerHale, a tenant in the building, left to relocate to Lower Manhattan.
The property, a 1.75-million-square-foot skyscraper owned by the large commercial owner Boston Properties, is home to the global headquarters of Citibank and is widely considered one of the finest office buildings along Park Avenue, an exclusive and highly desirable corridor in Midtown.
Boston Properties had found takers for the building even in the worst of times, filling the few hundred thousand square feet that suddenly became available in 2008 when Lehman Brothers, a former tenant, collapsed and sparked the financial crisis.
Fast-forward to 2012, a market several years removed from the depths of the recession, and this time around, Boston Properties wasn't taking any chances. According to the leasing agent at the property, Peter Turchin, an executive at the real estate services firm CBRE, Boston Properties quickly switched to the leasing strategy du jour: finding takers for the space one floor at a time rather than waiting for one big user to fill a large portion or all of the space.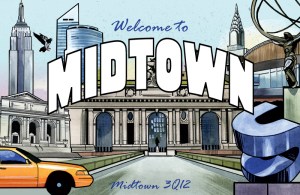 Mr. Turchin deftly signed a succession of deals in recent months, only a short time after the floors came available, with several tenants, including First Manhattan Company, the Jordan Companies and Epoch Investment Partners. Speaking at a recent market breakfast hosted by CBRE at its Midtown headquarters at 200 Park Avenue to discuss leasing statistics through the third quarter of the year, Mr. Turchin pointed out the window to 399 Park Avenue just down the block, identifying the group of floors in the tower where he had done the deals, visibly vacant as they waited for the tenants he signed to move in shortly.
"It was a purposeful strategy to take that big block and lease it floor by floor," Mr. Turchin told The Commercial Observer. "Each floor is 25,000 square feet, and we filled seven floors in four months. It was a successful leasing campaign that netted higher activity and rents than if we had marketed the whole block."
The approach was well-tailored to a Midtown market where the pace of big deals has fallen off but smaller tenants are still active.
According to CBRE data, not a single lease in excess of 250,000 square feet has closed so far this year, a sharp drop from last year, when five leases in this size range were signed during the same period (the largest deal of the year, a 1.6-million-square-foot lease taken by Viacom at 1515 Broadway, was not counted in the statistics because it was a renewal). Only two deals in excess of 100,000 square feet have been done in Midtown this year, compared with 10 during the first three quarters of 2012. Even midsize deals, those between 50,000 and 100,000 square feet, fell. Tenants of this size committed to approximately 1.1 million square feet of space this year, compared with 1.5 million square feet during the same period in 2011.
Meanwhile, smaller deals have tracked more consistently with last year's numbers. About 2.2 million square feet of space was leased by tenants of 25,000 to 50,000 square feet so far in 2012, compared with 2.6 million square feet last year—a smaller gulf than with bigger deals.
1330 Avenue of the Americas
,
1515 Broadway
,
200 Park Avenue
,
399 park avenue
,
620 Avenue of the Americas
,
Artisan Partners
,
Boston Properties
,
CBRE
,
Citibank
,
Epoch Investment Partners
,
Jordan Companies
,
Neil Goldmacher
,
Newmark Knight Frank
,
peter turchin
,
RXR Realty
,
Starrett-Lehigh
,
Viacom
,
WilmerHale