Massey Knakal Arranges 99-Year Lease at 1080 Amsterdam Avenue
---
---
Massey Knakal Realty Services has secured the 99-year lease at 1080 Amsterdam Avenue (aka 501 West 113th Street), where The Commercial Observer reported in August that a partnership between SL Green Realty Corp. and Stonehenge Partners would create a luxury residential building.
The property is located on the northwest corner of Amsterdam Avenue and West 113th Street, in the heart of Morningside Heights.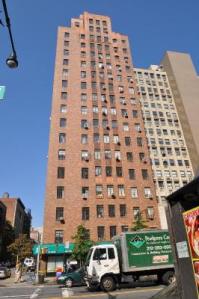 The 82,250-square-foot, 20-story prewar elevator building, most recently used to house hospital or employee staff by owner St. Luke's Roosevelt Hospital Center, is located just south of Columbia University's campus.
The prewar apartment building was constructed in 1932 and contains two commercial units and 96 residential units with sunken living rooms, large windows and views of the Columbia University's campus, Midtown Manhattan and the Hudson River.
The SL Green/Stonehenge partnership will undertake a strategic renovation to convert the property into a luxury residential address, expected to be completed within 24 months from its commencement.
"1080 Amsterdam offers a tremendous opportunity for SL Green and Stonehenge to tap into the strong fundamentals of one of the city's most supply constrained neighborhood," said Hall H. Oster, a director of sales at Massey Knakal who exclusively handled the transaction along with CEO Paul J. Massey Jr. and first vice president of sales Robert Shapiro.
"We would like to congratulate Continuum Health Partners on a successful transaction and the selection of great long-term partners in SL Green and Stonehenge Partners," Massey added.
Massey Knakal declined to specify a dollar amount on the deal, but the cost of the renovations has been estimated at $13 million.