Financial Protection Bureau Signs First New York Lease At 2 Grand Central Tower
---
---
The Financial Protection Bureau established its first New York outpost by signing a 21,000-square-foot lease at 2 Grand Central Tower. The bureau will occupy part of the third floor and the entire fourth floor at the Midtown building purchased last year by Rockwood Capital. The 10-year lease was done for rents around $50 per square foot. Paul Amrich, Vice Chairman in CBRE's Brokerage Services Group, led a team representing the landlord. David Leest, a broker with Brody Realty Corp., represented the bureau.
The regulatory agency was established last year as a result of the Dodd-Frank Act, legislation passed to guard consumers in the wake of the financial crisis and Great Recession. The bureau sought a space that would place it near the financial services companies it works with–the headquarters of Bank of America, JPMorgan Chase, Citibank and Wells Fargo are within a few blocks of 2 Grand Central Tower, on 45th Street between Lexington and Third Avenues.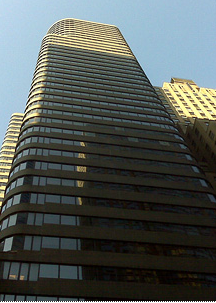 "Primarily the bureau wanted to be based near where so many of these financial institutions are headquartered," said Mr. Amrich. "If you look around Park and Madison Avenues and Grand Central you see a lot of these headquarters. People also wanted to be close to one of the city's major transportation hubs."
The Dodd-Frank Act was a political lightning rod during the presidential election season. Republican nominee Mitt Romney promised to dismantle the legislation, and the Financial Protection Bureau it created, if elected to the White House. But the campaign season didn't complicate negotiations on the lease. "We didn't have any hiccups and the bureau was a pleasure to deal with during and since negotiations," said Mr. Amrich.
Now that it's firmly established in New York, the bureau could grown within the nation's financial capital. "We would hope they'd need some expansion space," said Mr. Amrich. "They're poised to occupy the entire space on day one, so expansion could work well for them."
2 Grand Central Tower
,
Bank of America
,
Brody Realty Corp.
,
Citibank
,
David Leese
,
Dodd-Frank Act
,
Financial Protection Bureau
,
J.P. Morgan Chase
,
Paul Americh
,
Rockwood Capital
,
Wells Fargo