Leslie Wohlman Himmel: Commercial Real Estate's Feminine Mystique
---
---
Curious onlookers often wonder aloud whom Leslie Wohlman Himmel is married to.
The question has less to do with her romantic life than with her rise as one of New York City's few female building owners, a position she has navigated with aplomb as one half of Himmel + Meringoff Properties, the real estate ownership group she has overseen with partner Stephen Meringoff for nearly three decades.
To hear it from colleagues, competitors and peers, her gender has caused many to presume, incorrectly, that she either married into the industry or had exchanged vows with her partner in business, Mr. Meringoff.
"She arrived on the scene, not from a New York City family," said Mary Ann Tighe, chief executive officer of CBRE. "In the early years, when she was acquiring properties, people would say, 'Who's she related to?'"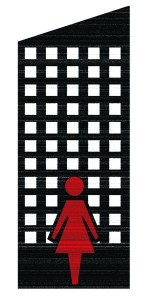 The number of women who can actually boast the title "owner-slash-landlord" is slim, largely due to difficulties in obtaining capital. Women like Laurie Zucker of the Zucker Organization, Helena Durst of The Durst Organization, Amy Rose of Rose Associates, and Veronica Mainetti of the Sorgente Group are notable landladies in a male-dominated field of New York owners. Alas, they, like Ms. Himmel, are outliers in an era when it is becoming harder for women to earn the money required to elevate them to the same ranks as male owners.
"Women traditionally make less pay than men, leaving less money available to them for startup capital," said Jennifer Carey, president of the Association of Real Estate Women.
"Leslie Himmel is a very rare breed to have been able to create and grow the business she created with her partner into such a successful company," Ms. Carey added.
The White Plains native was not a real estate scion, but rather the daughter of an accountant and a housewife.
After graduating from the University of Pennsylvania and Harvard Business School, Ms. Wohlman Himmel joined Integrated Resources, a New York Stock Exchange Syndicator, for which she procured properties across the country. It was during that time that friends helped sneak her into the Real Estate Board of New York's annual gala, where, upon hearing the premier landlords of that era—Harry Helmsley, Larry Silverstein, Bernie Mendick—speak, Ms. Wohlman Himmel had an epiphany.
"I realized at that point, having the experience of buying with other people's money on behalf of a public company, that I wanted to one day be an owner myself," said Ms. Himmel.
She went into business with Mr. Meringoff in 1985, and the two quickly snapped up properties while leaving those on the sidelines to wonder if they were more than just business partners.
"I hate to say it, but in the mid-'80s, I think people thought we were married," said Mr. Meringoff, who, in fact, is not married to Ms. Wohlman Himmel (that distinction belongs to Alan Shuch, a retired partner and advisory director at Goldman Sachs.)
"Leslie said, 'No. We're just a business,'" added Mr. Meringoff.
CBRE
,
Durst Organization
,
Helena Durst
,
Himmel + Meringoff Properties
,
Laurie Zucker
,
Leslie Wohman Himmel
,
Mary Ann Tighe
,
sorgente group
,
Stephen Meringoff
,
Veronica Mainetti
,
Zucker Organization