Boston Properties' 250 West 55th Street Draws More Legal Eagles
---
---
According to reports, law firm Kaye Scholer will be on the move once its new digs at 250 West 55th Street are completed. The law firm has signed a letter of intent for about 260,000-square feet of space at the Boston Properties tower, which is under construction and expected to open sometime in 2014.
A spokesperson for Boston Properties declined to comment, saying that it doesn't comment on such reports. And a spokesperson for the law firm declined to comment as well, saying only that additional details would be available at some point next week.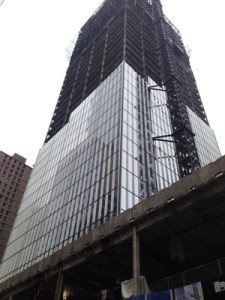 As Crain's reported in an item about the letter of intent, if a lease is signed for the law firm's space it will bring the building's occupancy to 50 percent.
Currently the law firm occupies space at L&L Holding's 425 Park Avenue, which L&L plans to tear down and redevelop within the next several years.
250 West 55th Street will be anchored by another law firm—Morrison & Foerster. Last month MoFo increased its 180,000-square-foot committal in the one million-square-foot building to about 205,000 square feet with the addition of another floor, 24. As confidence in the tower, which was delayed by the recession, builds MoFo has the option to take another 25,000 square feet there as well.
"This move accommodates our expanding needs and provides us with a state-of-the-art space from which to continue to provide our clients with high-level, innovative legal advice and superior service, as well as a great working environment for our attorneys and staff," Charles Kerr, a managing partner in MoFo's New York office said when its original 15-year lease was announced. "We have the utmost confidence that Boston Properties will construct and run a building of the highest quality and look forward to a very positive long-term relationship with our future landlord."
cgaines@observer.com