Microsoft Close To NYC Headquarters Decision
---
---
In a leasing market starved for activity, eyes in the brokerage business have turned to Microsoft (MSFT), which is on the cusp of a roughly 225,000-square-foot lease for its Manhattan headquarters.
The software company, according to sources with direct knowledge of its real estate decision making, has whittled its choices to two locations, a renewal at its current home in 1290 Avenue of the Americas or a move to a new office tower being built on Eighth Avenue by Boston Properties, 250 West 55th Street.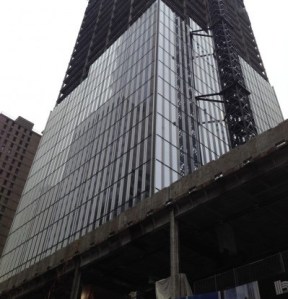 Both locations can fullfill what Microsoft has made a key requirement in its search; ground floor retail space that will give the company the ability to have its own entrance as well as host events and meetings.
Vornado, the REIT that owns 1290 Avenue of the Americas, is said to have made Microsoft an economically compelling offer to stay put. As The Commercial Observer pointed out, hundreds of thousands of square feet of availability threaten to mount on Sixth Avenue, possibly making it difficult to fill vacancies on the avenue in the near term.
Boston Properties' gleaming office tower meanwhile beckons with all its bells and whistles, including floor to ceiling windows and other high tech amenities and technology that brand new office buildings are able to boast.
Space at 250 West 55th Street, according to sources, would likely come at a premium to 1290 Avenue of the Americas however and the tower's location on the West Side, is considered further from Midtown's center. A state of the art facility is said to have captured the imagination of a tech company like Microsoft.
"It comes down to a personal decision for the company about what direction they want to take with their real estate and their image," one person involved in the competition said.
Microsoft had considered other locations in recent months, including 11 Times Square and a new office building being developed by Edward Minskoff, 51 Astor Place.